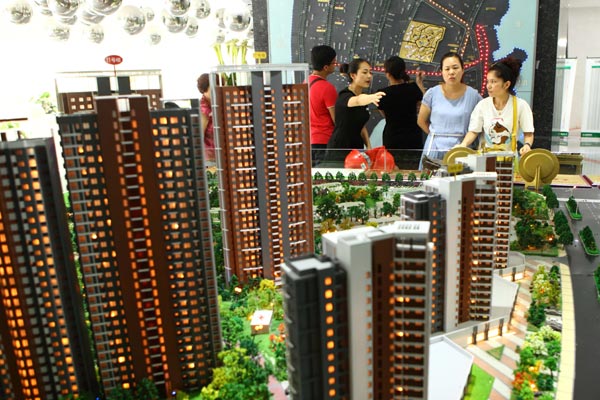 Residents visit new home promotions in Wuhan, capital city of Hubei province. New home prices slid 0.81 percent month-on-month in July, according to a survey of 100 major cities released on Friday by leading property market data provider. [Photo/China Daily]
Easing of many cities' purchase curbs fails to halt ongoing decline in market
Home prices dropped for the third consecutive month in July even as many cities eased limits on purchases and financing conditions.
New home prices slid 0.81 percent month-on-month in July, according to a survey of 100 major cities released on Friday by the China Real Estate Index System, a property market data provider.
Among the 100 cities, 76 recorded price declines and 24 had increases. Prices fell in all of the 10 biggest cities, including Shanghai and Beijing, where the market has been the most robust, suggesting that the chill is deepening.
"Pressured by mounting inventories and high debt ratios, developers are discounting prices to make sure they achieve sales targets," the CREIS said.
The price dip in July came after several cities scrapped curbs on purchases to boost sales. As of Friday, 60 percent of the 46 cities that had such curbs had eased them.
Zhang Dawei, director of market research at Centaline Property Agency Ltd, said that these measures are not enough to shore up the market. Zhang urged more credit support to reinvigorate a sector that accounts for about 15 percent of GDP and directly affects about 40 other business sectors
"Credit and loan supply plays a decisive role in the real estate market," said Zhang.
Analysts said a soft property market threatens to weigh down the economy, which has just shown signs of improvement after going through a soft patch in the first half.
The HSBC Holdings Plc-Markit Ltd manufacturing Purchasing Managers Index climbed to 51.7 last month, the highest in 18 months. That improvement came after first-quarter GDP growth cooled to an 18-month low of 7.4 percent.
Supportive moves by the government then pushed second-quarter growth up to 7.5 percent, which is also the government's full-year growth target.
"A policy-induced pickup in infrastructure investment offset the property market cooling in recent months," said Helen Qiao, chief greater China economist at Morgan Stanley, at a news briefing on Thursday in Shanghai.
The property market is still the biggest swing factor in the Chinese economy in the second half, she added, but the market will get a huge boost if the government keeps pumping money into the economy.
In June, total social financing expanded 40.7 percent from May. Also in June, M2, the broadest measure of money supply, was up 14.7 percent year-on-year.
"Our take is the government won't allow a big slowdown in the home market in the second half," said Qiao.
A Reuters poll of 15 analysts on Friday showed that home prices are likely to rise 0.5 percent in 2014 and a market collapse is seen as highly unlikely.