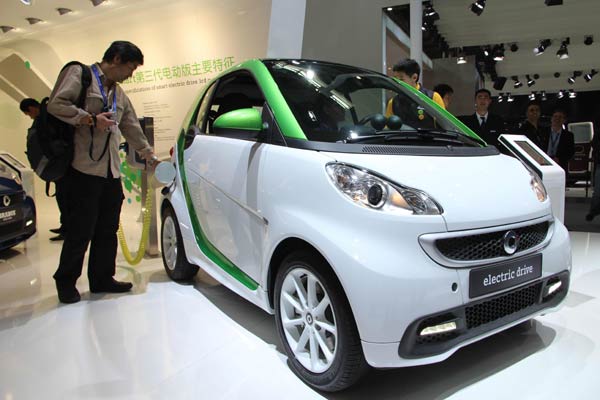 A new electric car is on show in Beijing. China launched a favorable pricing directive for electric cars on Wednesday to make using them significantly cheaper than gas-fueled ones. The move brings the nation one step closer to the widespread adoption of such vehicles. CHINA DAILY
Favorable pricing system for recharging stations announced
China launched a favorable pricing directive for electric cars on Wednesday, bringing the nation one step closer to the widespread adoption of the environmentally friendly vehicles.
The goal is to make operating electric cars significantly cheaper than gasoline-fueled ones in China, said Li Caihua, deputy director of the price department of the National Development and Reform Commission.
In most of the country's regions, the total cost of recharging electric vehicles, including an electricity fee and a service fee, is expected to be 30 percent lower than fueling internal combustion engine vehicles, Li told China Daily.
"The prices will be drawn up by regional price departments and will be varied, but the idea is to make electric cars much more cost-efficient than gasoline-fueled cars," he said.
The NDRC announced the favorable pricing system both for electric vehicle recharging stations and household charging outlets.
"Some new property projects will require the developers to add a certain number of charging posts or outlets for electric cars. The charging could be performed overnight, during (off-peak) nighttime hours when electricity is cheapest," he said.
The government will also issue price directives for the service fee for recharging or swapping batteries at the stations.
"In the initial period, local authorities will set guidelines for the service fee to keep prices competitive, but we welcome social capital to flow into this sector as well as the recharging infrastructure and hope to eventually become a competitive market," he said.
Li Ying, chief engineer of the State Grid Energy Research Institute, said different regions have various preferential policies for electric cars and face different levels of pressure for decreasing air pollution.
Purchasing costs will also be aided by favorable policies.
The State Council executive meeting earlier this month said China will exempt purchase tax for all electric cars sold in China, including imported ones.
From Sept 1 to the end of 2017, buyers will get purchase tax exemptions if they buy new-energy vehicles, including pure electric vehicles, plug-in hybrid electric vehicles and fuel-cell electric cars.
Additional positive policies are in the pipeline, Li said, with the Ministry of Housing and Urban-Rural Development, Ministry of Industry and Information Technology and Ministry of Finance to all boost the development of the industry.
China has tripled its sales of new-energy vehicles in the first half to 20,477, according to China Auto Association. Ranking first among domestic new energy cars is the Qin, a plug-in hybrid sedan from BYD, of which 5,357 have been sold.