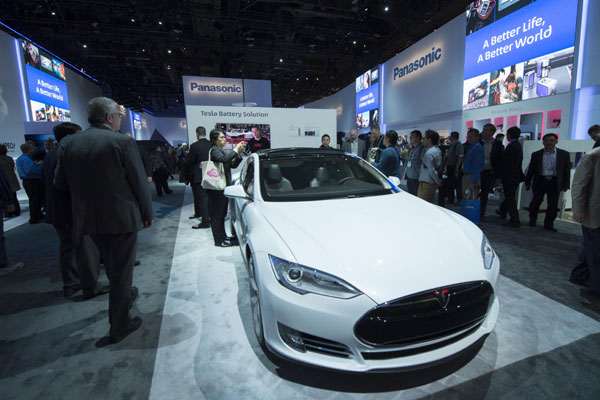 Tesla Motors Inc displaying its latest electric car at a consumer electronics show in Las Vegas. [Photo / Xinhua]
Overseas electric cars will be excluded from the new round of government-backed development and sales stimulus program because of a shortage of funds and an attempt to boost local innovation, government officials said on Monday.
Imported renewable energy cars made by Tesla Motors Inc and other foreign brands will not benefit from the waiving of purchase tax and other government support aimed to help domestic green automobile development and manufacturing, said Su Bo, vice-minister of the Industry and Information Technology Ministry.
"Chinese car manufacturers are capable of supplying the local demand for fuel-powered automobiles after decades of development, but in the new energy sector there's almost no space for local brands to grow," said Su.
"Fewer high-end car imports will help the nation's car industry both in terms of sales and innovation," Su added.
He also acknowledged the "achievements" made by China-overseas joint ventures, calling them "backbone" of domestic innovation.
China will exempt purchase tax on homemade automobiles using new energies, especially electricity, starting from Sept 1 to the end of 2017.
Excluding overseas-made cars is also because of a shortage of government funds, he added.
The nation has added 20,000 new energy cars in the last year, nearly doubling the total sales in the previous four years, and more than 20,000 new energy cars, including electricity and hybrid automobiles, were built in the first half of this year, according to the MIIT.