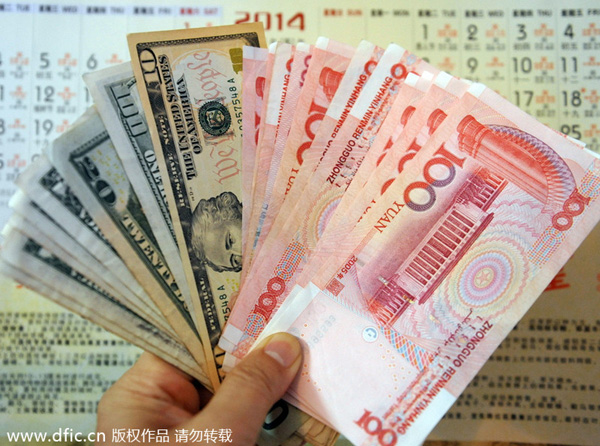 A Chinese resident displays his Chinese currency and US dollar banknotes in Qionghai city, South China Hainan province, March 15, 2014. [Photo/IC]
Growth recovery in the third quarter will support the Chinese currency to 6 versus the US dollar, a mid-year report by Credit Agricole said recently.
The CNY saw its deepest correction in 20 years during the first five months in 2014. While the correction is deep, it is mostly due to the wider trading band, said the report.
"Once growth recovers, which we expect in Q3, investors will flock back to the Chinese currency…we keep our year-end call of 6 versus the USD," said Dariusz Kowalczyk, economist and strategist at Credit Agricole SA in Hong Kong.
The bottom line is that the People's Bank of China (PBoC) is using external demand as a back-up for weakening domestic demand, and currency depreciation is its tool in the process. Thus, if the economic recovery is delayed, so will the rebound of the CNY.
As for the major risk to the economy, Kowalczyk said it is the real estate sector.
Real estate has simply expanded to such an important component of the economy – investment in this sector accounts for 10 to 15 percent of GDP and 20 to 35 percent of GDP growth, that a significant slowdown could have very serious negative implications for its stability as well as of that of the financial system, he said.
"While the real estate market saw similar downturns in 2009 and 2012, and both were swiftly reversed by policy easing, this time may be different," Kowalczyk said, noting that the policymakers seem unwilling to adopt easing measures, fearing it may jeopardize reforms.
"Our concern is that China is facing a choice between persisting in reforms and confronting a real-estate-led hard landing, or supporting this real estate market but delaying reforms and risking a financial crisis down the line," he said.
This is the choice that Beijing has faced in the past in 2009 and 2012, and each time it opted for the latter, exacerbating the real estate problem to the point where it seems very difficult to avoid a shock therapy, he added.
Real estate market performance for May and June is likely to be the litmus test for what the authorities should do. Barring a turnaround in sales and/or starts, policymakers will likely to move toward a rate reduction, the report said.
This would be even more likely in the event of a clear deceleration in second quarter GDP growth in year-on-year terms.