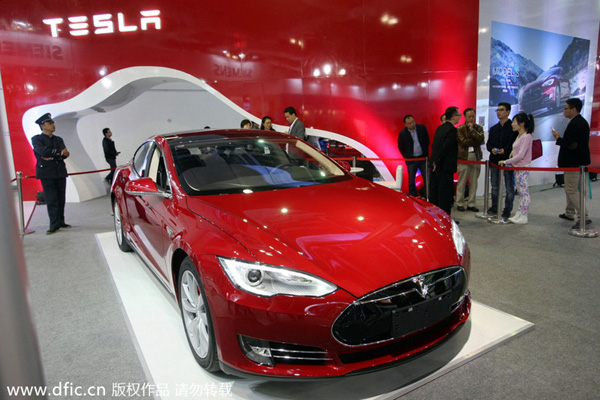 Visitors look at a Tesla Model S electric car on display during the 2nd China (Shanghai) International Technology Fair in Shanghai, 27 April 27, 2014. [Photo/IC]
Tesla Motors Inc's flagship Model S electric car has system vulnerabilities that could let car doors be unlocked using a remote control, researchers at security firm Qihoo 360 Technology Co said on Tuesday.
The flaw in Tesla's onboard program could also lead to remote activation of horns, lights and glass roof. Qihoo has informed Tesla of the program bug.
Jiang Xuxian, chief scientist at the Chinese company, said the flaw can only be manipulated by using high-tech maneuvers and can be fixed by deactivating the car's remote access function.
Qihoo, based in Beijing, was the first information security company worldwide to report a security breach in Tesla cars.
In March, Nitesh Dhanjani, a corporate security consultant and Tesla sedan owner, said the electric vehicles can be located and unlocked by cracking a six-character password remotely by using traditional hacking techniques.
China, a country where the number of private cars continued to increase in the past decade, is one of the biggest markets for Tesla.
The United States electric carmaker expects its China sales to contribute a third of global sales growth in 2014, a top executive said earlier.