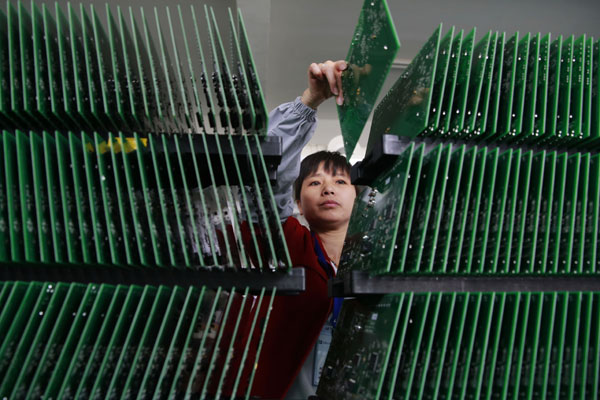 A worker with the Jiangxi-based high-tech company Shanshui Electronics Co Ltd sorts circuit boards. Tens of thousands of private equity and venture capital firms are believed to be behind China's vibrant technology, media and telecommunication sector. ZHANG HAIYAN/CHINA DAILY
Gong Yan, assistant professor of entrepreneurship at the China Europe International Business School, shows passion when he talks about Tesla Motors Inc.
For him, the California-based company represents a "disruptive innovation" that few Chinese companies have achieved.
Tesla, he says, is to the vehicle industry what Apple Inc has been for the mobile phone industry. It's tossed out what people think of as being a car.
Its "disruptive innovation" is reflected mainly in its product and business model. Tesla produces battery-powered
electric car
s. It provides car owners with a free battery-charging service through a nationwide network of solar-powered charging stations.
Unlike buyers of conventional cars that rely on massive dealer networks, Tesla consumers can go to its direct sales stores for test drives, place orders online and enjoy cloud-based after-sale service.
Chinese electric car companies don't lag too far behind Tesla in terms of technology, Gong said. On the contrary, a few companies such as Shenzhen-based BYD Auto Co Ltd have developed an edge in some electric car-related technologies. What they lack, according to Gong, is a "revolutionary" aspect to their products and the will to pursue an "extreme" consumer experience.
Companies do not necessarily have to be "revolutionary" to be successful. Most companies succeed as they follow well-established paths and improve their products incrementally. In this regard, Gong said it's "not fair" to compare BYD and Tesla because they are totally different companies.
"It is difficult to compare Tesla with any other company because it is really disruptive, in its business model and product," he said.
That doesn't mean Chinese companies haven't got a chance. Chinese enterprises are rapidly catching up with their Western competitors in many fields. Contrary to popular perception, there is little difference in the mobile Internet field, said Gong, who completed a doctoral degree in the United States and taught at the University of California, Irvine before joining CEIBS.