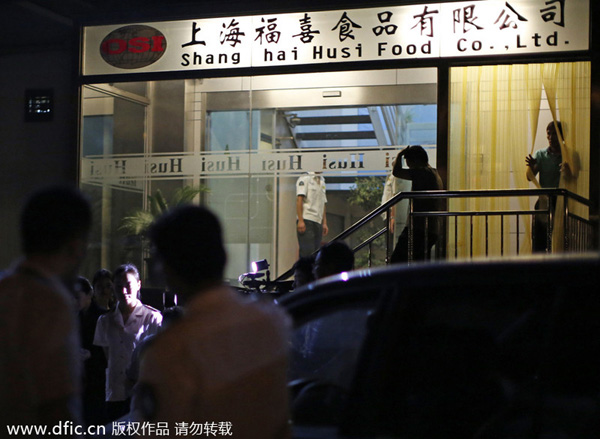 Shanghai Municipal Food and Drug Administration carries out a raid to Shanghai Husi Food Co Ltd in July 20, 2014.[Photo/IC]
Authorities carried out a raid at a large meat supplier plant and sealed off a company's computer in Shanghai on Sunday.
Although the Shanghai Municipal Food and Drug Administration officials did not find any food security problem at Shanghai Husi Food Co Ltd, which is owned by OSI Group, they did seal off the computer that had all the company's data.
However, Zhang, a Shanghai Husi employee for 10 years, has provided two quality control records to Oriental Morning Post. The records reportedly reveal some quality problems, such as expired raw material, extension of shelf life, and modification in the production date, in the past two years.
"There are two sets of reports. One is recorded on the spot (the real data), and the other one that is modified by someone. The modified version is for the technical reviewers", said Zhang.
Shanghai Husi, which was ordered on Sunday to stop production and wait for investigation, has removed all of its meat products off the shelves in China.
Meanwhile, fast-food giant McDonald's has announced that for the first time it has asked all its restaurants to seal off the meat products from Shanghai Husi. It has also launched an investigation into Shanghai Husi and other related companies and will share the result as soon as possible, reported Beijing Times on Monday.
YUM! Restaurants (China) Investment Co Ltd, parent company of KFC and Pizza Hut, has also banned use of meat from Shanghai Husi.