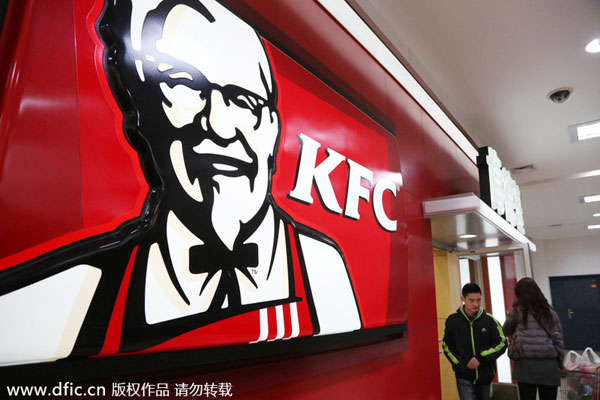 Pedestrians walk past a KFC fastfood restaurant in Xuchang, central China's Henan province, Jan 11, 2014. [Photo/IC]
KFC, the largest international fast-food chain in China, is revamping its 130 restaurants in the country, along with plans to offer better Wi-Fi and mobile experiences at its outlets, to attract more customers.
The company's new store designs include off-white and gray walls decorated with modern paintings. They also have wooden tables and areas separated by green plants and glass, creating the atmosphere of a social hangout as opposed to a traditional to-go fast-food chain.
Zhao Li, general manager of Beijing KFC, said the new "Dining Room" concept aims to make the space more homely, where consumers can dine, chat and surf online without being interrupted. The chains also are adopting new employee uniforms and a new electronic menu.
The company's US-based parent Yum! Brands indicated that it plans to have 700 new restaurants in China this year, with KFC being the majority. All newly built KFC restaurants and the revamped ones will sport the new designs, company officials said.
Su Jingshi, Yum's China chairman and CEO, said international fast food chains had to change strategies in China as a result of declining preference for foreign brands and recognition among Chinese consumers, new consumers created by the rapid urbanization, as well as new service demands from mobile and online users.
He said KFC is positioned differently in China compared with fast food chains in other international markets.
"We offer fast service. But how long in what way our consumers want to spend time in our restaurants in China is not limited. The new designs will offer more quality service and a comfortable environment for social interaction and business meetings," he said.
By the end of this year, about 2,000 KFC restaurants, out of its 4,600 stores in China, will provide free Wi-Fi services. Customers who have paid with KFC mobile applications can receive their orders as soon as they arrive at the restaurants..
But the antibiotic incident in 2012 and the bird flu in 2013 brought its business to an unprecedented low. In 2013, its same store revenue declined 13 percent year-on-year.
According to data provided by market research firm Euromonitor, Yum! Brands market share reached its peak in 2012 of 6.4 percent and fell to 5 percent last year.
On the contrary, McDonald's market share rose from 2 percent in 2010 to 2.6 percent in 2013. Meanwhile, Dicos' parent company TingHsin International Group's market share increased from 1.2 percent in 2010 to 1.8 percent in 2013.