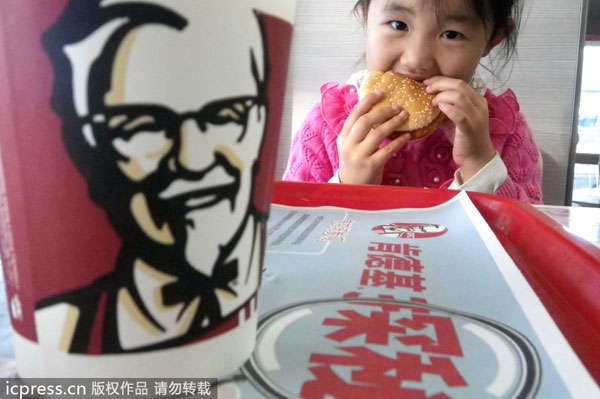 A girl eats a hamburger in a KFC outlet in Beijing, Oct 4, 2013. [Photo/IC]
To ensure every customer can enjoy a cup of hot soy milk in a KFC at 7 am, or have a party in a Pizza Hut at 10 pm, more than 100 Yum! logistics vehicles travel nearly 10,000 kilometers across Beijing every day to deliver food to its restaurants.
As the largest restaurant chain in the world, Yum! Brands Inc will make its debut in the distribution sector at the Third China (Beijing) International Fair for Trade and Services that opens May 28.
The group runs more than 40,000 restaurants in some 130 countries and regions worldwide. It has 4,600 KFCs, 1,100 Pizza Huts and nearly 400 Little Sheep hot pot restaurants, with more than 410,000 employees.
Yum! Brands' China division built a logistics center in Beijing's Tongzhou district in 2004, covering 6,7000 square meters. It is the company's largest of its 18 logistics centers across the nation and its first world-class center.
The warehouses for dry goods and frozen goods take up 28,000 square meters, where more than 2,000 categories of items are stored, ranging from meat, flour and cooking oil to cookers, paper cups and straws.
KFC China launched a new menu in March featuring 15 new products, including seven new additions to the frozen goods section and 30 in the dry goods section.
The center delivers 18 million boxes of goods a year to more than 1,000 KFC, Pizza Hut, Little Sheep and Dongfang Jibai restaurants in the North China region, with a delivery range of some 1,000 km.
The company executives said they have renewed the concept of logistics - it is no longer simply workers moving boxes, information flow is increasingly important.
Orders from restaurants, customer service and delivery information are all processed and analyzed by computers. Even in the storing procedure, half of the time is used to process bills and orders.
The center has specialized departments to collect demand information from each restaurant, manage its stock of each item and make optimized delivery routes.
Quarantine inspections and temperature testing are done when refrigerated and frozen goods go in and out of the warehouses, and the transport vehicles are all equipped with temperature recording and tracking systems, so the temperature in the carriage can be automatically uploaded to a supervising system.