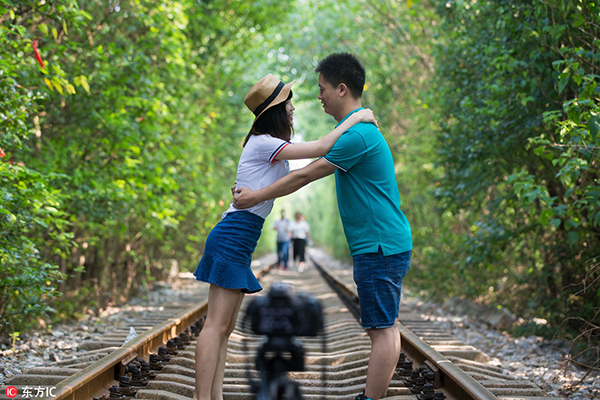 A young couple poses at "Love Tunnel" in Jiangning district, Nanjing, Jiangsu province, Aug 9, 2016. [Photo/IC]
BEIJING - Chinese people embrace their own "Valentine's Day" Tuesday, when lovers send each other gifts or have romantic candlelit meals together.
"Qixi" is a traditional Chinese festival on the seventh day of the seventh month of the lunar calendar. It is based on a 2,000-year-old legend of two lovers, Niu Lang and Zhi Nu, separated by a river, who can only meet once a year when a flock of magpies forms a bridge for them.
More people celebrating
As with other festivals, Qixi has become an excuse for shopping. Shopping malls, both online and brick-and-mortar, and department stores have numerous promotions on the day.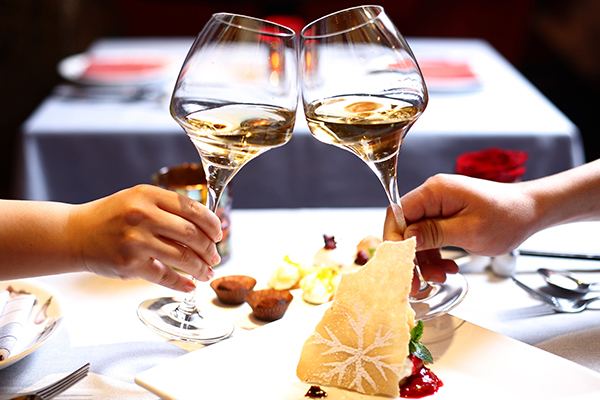 Lovers have romantic meals together.[Photo/IC]
Alibaba claims that the number of people searching key words such as flowers, roses, and chocolates on online shopping websites increases dramatically around Qixi.
Unmarried couples are generally more interested in Qixi gifts than the married. About 84 percent of flowers delivered at this time of year are roses. Of those who buy roses and chocolates, Alibaba says more than 90 percent are unmarried and more than 63 percent are between 18 and 29 years old.
But this does not mean that the middle-aged do not celebrate. Many middle-aged people in the survey said that they give their spouses presents on this day, but they tend to be household items.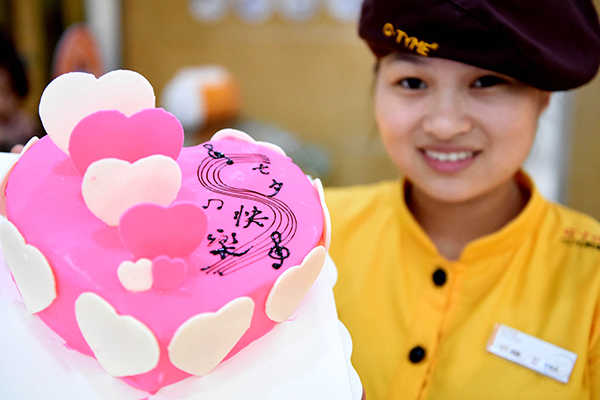 A Chinese clerk shows a cake at a bakery in Bozhou city, China's Anhui province, Aug 10, 2016. [Photo/VCG]
A last chance to find a mate
The festival was originally a day for girls rather than couples to celebrate, and its original meaning had very little to do with love.
Wang Juan with the Department of Chinese Language and Literature at Peking University, said that Qixi was for young women and girls to get together, do embroidery and pray for good needlework skills which in turn would help them find a partner.
Though people today rarely do needlework, finding a mate is still an important part of the day. Traditional, commercial matchmaking events are held in parks.
This year a bus driver in central China's Henan province came up with a new way for young people to meet their "Mr or Miss Right." Inspired by the love story of another bus driver Zhao Pengfei, Yun Xi, driver of Bus No 62 in Zhengzhou, the provincial capital city, has adorned his bus with wedding photos and romantic love stories.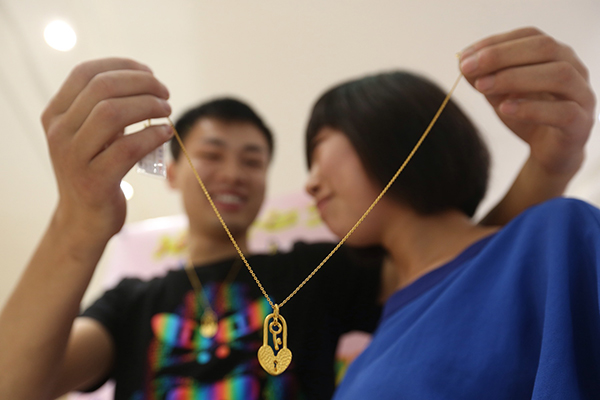 A young man sends a gold necklace to his girlfriend in Beijing. [Photo/VCG] 
Zhao, who works on Bus No 130 in Zhengzhou, met the love of life on his bus. In 2014, a girl lost her bus pass on his bus. Zhao told her he would look for it later, and asked for her phone number so he could call her if he got lucky, which he certainly did. He duly found the card and returned it to her that evening. They are now married.
Yun's plan is to ask his passengers for their WeChat details, so he can post their contact information in his bus.
"Most young people are too busy to meet new people," he said. "Buses are the most popular public transport, so I hope this can help them."
A day for reminiscences of youth and love
Qixi is not just for young people but holds meaning for older citizens.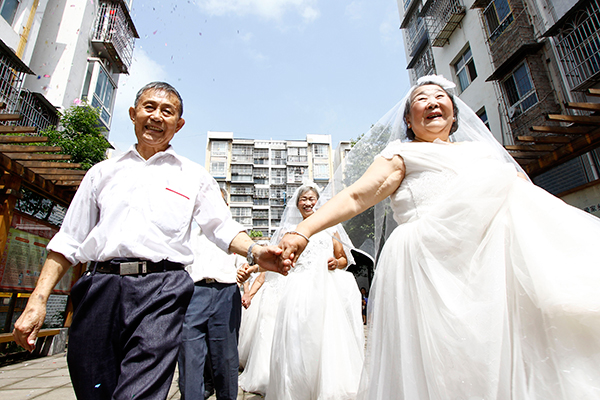 Couples celebrate Qixi, or Chinese Valentine's Day, in wedding dresses when they got married half a century ago, Suining city, Sichuan province, Aug 8, 2016. [Photo/VCG]
Chen Yi, in his fifties, from Changsha, capital of central China's Hunan province, said he does not envy young people celebrating the festival, but is reminded of the good old days when he and his wife enjoyed a simple, romantic relationship.
"When we were young, we never celebrated western Valentine's Day, but we looked forward to Qixi a lot. I helped my girlfriend fetch water and sent her cakes. She sent me a handmade scarf as a present," Chen said. "In the afternoon, we walked along the track of the local stadium."
Guo Houchi, a college student from Changsha, remembers his mother telling him stories about Qixi.
"She told me that when she was young she would go out on the night of Qixi to see the stars in the sky and try to find Niu Lang and Zhi Nu. It sounded like such a romantic way to celebrate."
Qixi was listed as an example of national intangible cultural heritage by the State Council in 2006. Over the past decade, Chinese people have developed their own ways to celebrate the festival.
"The Festival is a miniature piece of culture. We should pay more attention to how these festivals encapsulate our traditions and reflect people's behavior today," said Professor Wang Juan.