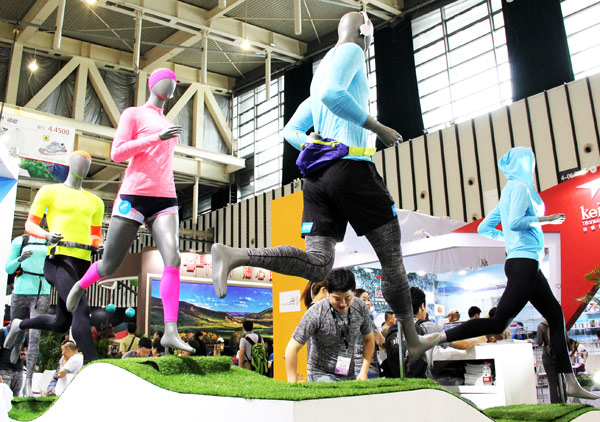 Sportswear on show at an international expo held in Nanjing, capital of Jiangsu province, in June. PROVIDED TO CHINA DAILY
Marathons have become a lifestyle choice for many in China, with the market value of the industry exceeding 100 billion yuan ($15.1 billion) as 800 marathons are expected to be held across the nation by 2020, a report said.
More than a quarter of consumers searching for or buying marathon equipment on e-commerce site JD came from Guangdong and Beijing, a report issued by 21st Century Economic Institute, 21st Century Media Group and e-commerce trader JD.com Inc showed.
Chinese runners are no longer satisfied with participating in marathon races at home, and attending marathon races overseas has become a new choice.
Marathon-related consumption is expected to boost the development of intelligent wearable devices.
Sports bracelets, running shoes and sports watches are the top three products most frequently searched by runners as they prepare for marathons, the report said.
The market scale of intelligent wearable devices is expected to reach nearly 60 billion yuan in 2016.
"In the next 10 years, the annual growth rate of the Chinese sports industry will surpass 20 percent," said Wang Xuesong, general manager of JD Sports.
According to the Mass Fitness Plan 2016-20 issued by the State Council, the five-year plan for the sports industry, sports consumption in China will reach 1.5 trillion yuan by 2020.
The report also showed that sports events catering to the interests of minority groups have gradually become a trend as sports lovers have shifted their attention from traditional sports to hiking, cycling, camping, climbing and canoeing, Wang added.
It also pointed out that the consumption of basic sports goods declined from 2013 to 2015, but consumption of fishing and cycling equipment increased most rapidly, with their growth rates surpassing 75 percent in the first half of 2016.
The post-1980 generation is a major consumer of sports equipment, with 68.97 percent of consumers aged between 26 and 35 buying fishing equipment, while the post-1970, post-1960 and post-1950 generations tend to prefer swimming products.
Big sports events also see increased consumption of beer, snack foods, large-screen TVs and projectors, said the report.
"In recent years, the sports industry has been innovating and the consumption structure has changed from the sportswear in the past to the scenario-based services and consumption. Specialized, customized and intelligent services will become a trend of sports consumption," said Wang.
Jin Can, director of the sports culture research center at the Beijing Academy of Social Sciences, said: "The sports industry now enjoys huge potential for development, and China's middle class is the driving force of sports consumption."