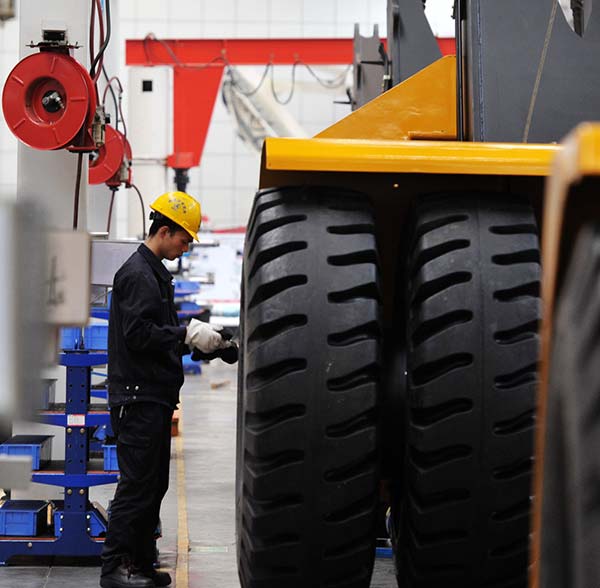 An employee of heavymachinery manufacturer Sany Group assembles construction machinery in a factory in Changsha, capital of Hunan province.[Photo/Xinhua]
Caterpillar, Doosan look at secondhand market prospects
Construction equipment makers are ramping up cooperation with auctioneers of secondhand equipment in China, because they are suffering from a prolonged sales slump amid this years' slowdown of the country's building boom.
Global major manufacturers of construction machines, such as Caterpillar Inc and Doosan Infracore Co Ltd are looking into businesses in the used gear market, of which the growth has already outpaced that of the new machine market.
Jeong Ouk-jin, vice-president of the sales and marketing department of Doosan Infracore China Co Ltd, said it has worked with Tiebaobei - China's largest secondhand construction equipment platform for both online and offline sales of the secondhand machines.
"The partnership is in line with our strategy to strengthen after-sales services," he said.
The Seoul-based manufacturing giant has helped its dealers find local buyers through auctions, pushing forward sales of the used machines, the executive said.
Last year, a total of 60 used models, including excavators and wheel-loaders worth more than 18 million yuan ($2.7 million) were sold in China through the platform, a report of tiebaobei shows.
China's construction machinery sector has been on a downward slope since 2012, as major players struggled with excess capacity created during the country's massive stimulus plan that followed the 2008 global financial crisis.
From 2011 to 2014, sales of new machines shrank nearly 50 percent while the secondhand market remained stable.
Fan Jianshe, the founder of Tiebaobei, built the business when the construction equipment market slowed down due to overcapacity. It has gathered secondhand gear, ranging from generators and vans, to heavy-duty trucks and diggers.
He said that the market value of secondhand sales already reached more than 400 billion yuan in 2015, while the traditional market fell to 350 billion yuan during the same period from 600 billion yuan in 2014.
"Though business conditions for construction equipment makers have started improving as China has cleared some of its excess, the market still needs to be strengthened," he said.
"I think it will need at least three to five years for the market to recover."