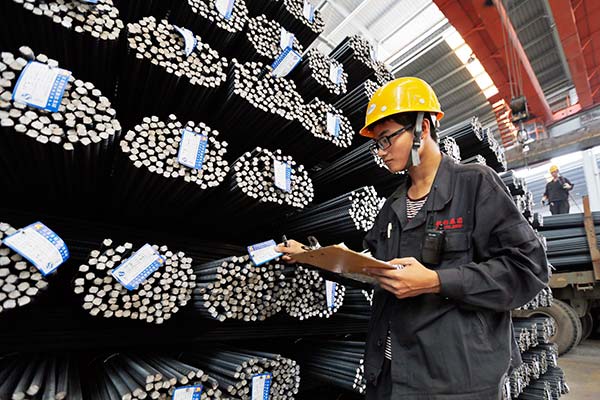 A worker examines steel products at a shipbuilding factory in Chongqing. Rao Guojun / For China Daily
Efforts to cut excess capacity and upgrade the sector are creating new problems as well as opportunities
Editor's note: As China presses on with its attempts to cut overcapacity in steel as part of its international obligations and national economic priorities, the going is getting tougher. On one side is the heart-rending saga of survival-oriented hundreds of thousands of workers - laid off by steel mills, and now desperately trying to learn new skills to find alternative employment in other fields. On the other is the recalcitrant section of the steel industry that is yet to align itself with the national targets for reduction in overcapacity. China Daily takes stock of the sweeping reforms that may yet transform the country's steel industry.
Wearing a red hat and waving a red flag, Jiang Qin, a woman in her 50s, now works to assist traffic police, persuading pedestrians and bike riders to obey traffic rules on a street in Hefei, capital of Anhui province in East China.
Along with 5,000 others, Jiang was laid off late last year when Magang (Group) Holding Co shut down its Hefei steel plant, amid a nationwide campaign to reduce overcapacity in the steel industry.
"It used to take me an hour and a half to get to work on crowded buses," said Jiang. "Now, I work near my home, earn 1,500 yuan ($225) a month. I am happy with my new job, because the job at the plant was no longer ideal as I'm getting old," she said.
Zhou Hanhua, 56, from Wuhan, capital of Central China's Hubei province, has a similar story to tell.
Laid off late last year from Wuhan Iron and Steel, Zhou is now a driver with Didi Chuxing, China's biggest car-hailing service provider.
Besides his earnings from his new job, Zhou still receives around 1,000 yuan a month from Wuhan Iron and Steel. "My monthly income is now as much as I earned at the prime time of Wuhan Iron and Steel," he said.
According to Didi, there are now 219,000 ex-steel workers working for the company across China. In Wuhan alone, 7,000 Didi drivers used to work for Wuhan Iron and Steel.
It is alright for some, but many of the laid-off workers are upset and worried about their future. Most are keen to try their luck in a new career.
Young people no longer regard jobs at State-owned enterprises or SOEs as "jobs for life". SOE salaries have halved in real terms, said another Zhou, also a former worker with Wuhan Iron and Steel.
"Nobody knows how long it will take for the sector to pick up again, if ever," he said. "It would be much better to try to find a new career."
Wuhan city government has organized two job fairs this year with 500 employers offering thousands of jobs. Wuhan Iron and Steel plans to cut another 10,000 jobs by December.
Despite every possible effort to cut production, China's steel industry set a new monthly output record of 69.5 million tons in June.
"Many small steel mills resumed production as prices rose in March and April," said Gao Haijian, Magang's chairman.
If small steel firms are not closed completely, it will be difficult to meet capacity reduction targets of 100 to 150 million tons by 2020, with 500,000 workers to be laid off.
This year alone, the country plans to eliminate 45 million tons with 180,000 workers set to be laid off, according to Xu Shaoshi, head of the National Development and Reform Commission.
But according to the Ministry of Industry and Information Technology, only 13 million tons were cut in the first half of the year, 30 percent of the annual target.
The NDRC, however, has ordered authorities to meet their targets, warning that failure would lead to severe punishment.
"A proportion of China's steel mills do not meet environmental standards and should be shut down," said Ma Guoqiang, chairman of Wuhan Iron and Steel.
With more mergers and acquisitions, the steel sector would run more efficiently, said Chen Derong, president of Baosteel Group.
Ma of Wuhan Iron and Steel said restructuring is a must in cutting capacity and improving efficiency to create globally competitive firms.
In 2015, more than half of China's steel companies reported total losses of 65 billion yuan. Once a profit engine for China, iron and steel boomed while infrastructure investment fed demand for commodities such as steel and cement.
Now, as the economy cools, the production glut has become as burdensome as it was once bountiful.
Apart from capacity cuts, steel firms are struggling up the value chain with higher value-added products. Baosteel sees the auto, nuclear power and defense industries as possible alternatives for the waning construction industry, said Chen.
Magang plans to invest 7.7 billion yuan to upgrade 10 production lines. In 2014, it acquired a French company to help it improve its products and penetrate the European market.
Magang also has sent 15 teams to learn from auto and home appliance makers to better understand what they need.
"We will clearly understand customers' demands and this will help improve our competitiveness," said Gao of Magang.