After bidding farewell to professional athlete life, former Rockets big man Yao Ming kept busy building his business empire by investing in different industries. From opening a family restaurant to investing in public traded companies, his investment map expanded over the years. Not all were successful but his portfolio never ceased to grow.
Here are some of Yao's businesses.
1 Yao Restaurant and Bar in Houston and Yeeha Restaurant in Shanghai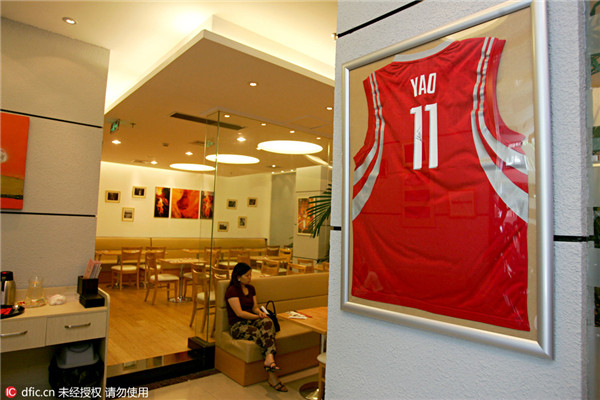 The No 11 sports T-shirt which basketball star Yao Ming wears in Houston Rockets Basketball Team is hanged in the Yeeha Restaurant, opened by basketball star Yao Ming's family in Shanghai, is shown in this file photo July 26, 2006.[Photo/IC]
Yao Ming invested $1.5 million in a restaurant, 'Yao Restaurant and Bar' in Houston. The restaurant was the sports celebrity's attempt to enter the food and beverage business.
The Yeeha restaurant, covering 1,500 square meters, is the second Yao restaurant following the first one opened in Houston, US and it's decorated with basketballs, sports T-shirts and photos with Yao Ming's autograph.
Yao's parents invested in the restaurant and so too did their friends, who played basketball for the Shanghai Basketball Team in the 1970s.