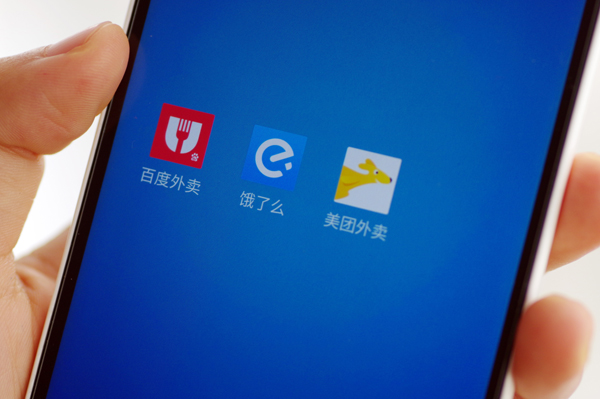 Logos of online food-delivery platforms Baidu Waimai, ele.me and Meituan on a mobile phone. [Photo/VCG]
The Beijing Food and Drug Administration has urged online food-delivery platforms to make aggressive efforts to clear out unlicensed restaurants, the Beijing News reported.
The newspaper disclosed that many illegal restaurants lacking necessary hygiene and safety approvals offer takeout services via online platforms such as Baidu Waimai and Meituan.
Following the report, the food and drug watchdog published information on 60 restaurants that failed to provide licenses, with 20 each on Meituan, Baidu Waimai and ele.me.
Those restaurants were asked to suspend services immediately, and by Oct 1 all restaurants on the three food-delivery platforms must publish their licenses, according to the administration.
Tang Yunhua, spokesperson for the administration, said it will provide information on unlicensed restaurants to the media every week and strengthen supervision through cooperation and technical means.