Retailers reap gains of growth in online food orders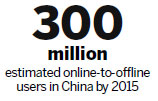 Along with the rise of digital media, food retail outlets are undergoing a major shift toward online delivery. And a recent heat wave in China has pushed interest in ordering food off the Internet to all-time highs.
"Our orders jumped by 30 percent to 50 percent as a result of weather conditions this summer, including high temperatures, heavy rainfall and typhoons," said Chen Xiaofei, a public relations associate at ele.me, the largest Chinese online food ordering service, which translates to "Are you hungry?"
The FIFA World Cup 2014 tournament also gave a boost to the company's online and mobile app sales.

Today's Top News
Editor's picks
Most Viewed