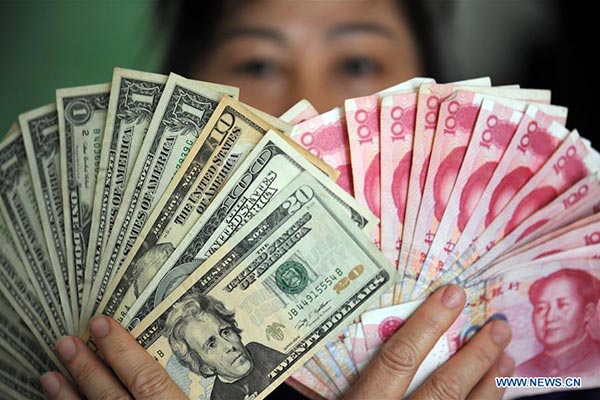 A residents shows China's yuan and US dollar banknotes in Qionghai, South China's Hainan province, Jan 7, 2016. [Photo/Xinhua]
China's central bank is expected to choose a Chinese lender to clear yuan transactions in the United Arab Emirates by the end of this year, which would strengthen the growing economic ties between China and the Middle East, Reuters reports.
Middle East's first yuan clearing center was opened in Qatar last April, with the Industrial and Commercial Bank of China (ICBC) becoming the clearing bank, handling 350 billion yuan ($52.6 billion) in transactions since it launched, Zhou Xiaodong, general manager of ICBC's Dubai branch, told Reuters.
The launch of a clearing bank in the UAE could influence trade and investment in the Gulf, where Dubai acts as the region's top business center, handling flows of money and goods to countries in the six-nation Gulf Cooperation Council and beyond, Reuters reports.
Fang Min, senior executive officer of Agricultural Bank of China (ABC), told Reuters: "In this region everyone thinks of Dubai as the hub for the whole of the Middle East".
"From an economic and financial center point of view, Dubai is the most appropriate (place) to set up an offshore renminbi market," Fang said.
The yuan clearing bank in the UAE will be chosen among Agricultural Bank of China, ICBC, Bank of China and China Construction Bank, according to Fang.
The trade between China and the UAE was estimated at $60 billion last year, up from $47.6 billion in 2014, according to Dubai International Financial center (DIFC).
In addition, as the UAE is the most active country in the Middle East in using yuan for direct payments to China, yuan was used for 74 percent of payments by value from the UAE to Chinese mainland and Hong Kong on the SWIFT international transactions network last year.
Fang said he expected the UAE's ratio for SWIFT direct payments in yuan could increase to 80 or 85 percent by 2020.