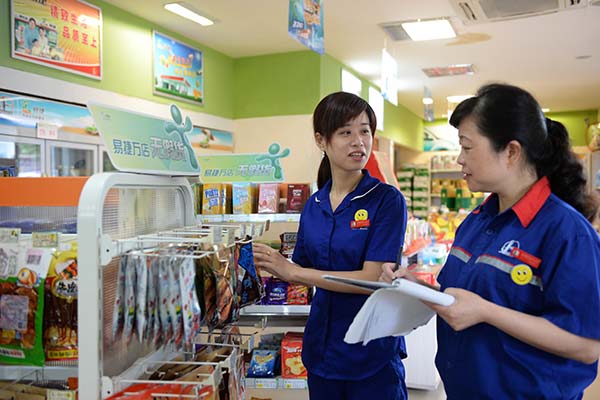 Two employees stack items at an EasyJoy convenience store in Jingdezhen, Jiangxi province.Hu Qingming / for China Daily
Oil and gas group says it withstood severe challenges in market
Chinese oil and gas company China Petroleum and Chemical Corporation, or Sinopec, saw its non-fuel sales surge 43 percent in the first half of this year amid falling crude oil prices.
The Beijing-based company's non-fuel profits rose 42 percent from January to June, while sales of its retail oil products grew 3.1 percent during the same period, Sinopec said on Monday.
"We have withstood the severe challenge in a really tough market, strengthening our convenience store businesses and diversifying into a comprehensive service provider," Sinopec said in a statement.
The result came as the company sought to drive non-fuel sales across its extensive network of service stations.
Liu Xinzhang, an analyst at commodities consultancy Sublime China Information Co Ltd, said non-fuel business is becoming a new profit growth point for oil majors especially when their core businesses such as oil production and refining are facing downward pressure.
"The State-owned gas stations are all speeding up efforts to become a service supplier, selling not only oil products but also fast-food, insurance and other auto services," he said. "Clearly, the transformation will bring more profits amid the country's push towards market-oriented operations."
The top Asian refiner has set up a retail company Sinopec EasyJoy Sales Co Ltd to run 24,000 chain stores and other related assets, including auto services, at its more than 30,000 service stations across China.
Meanwhile, Sinopec has cooperated with international fast-food giant McDonald's Corp to set up about 300 auto service stations offering fast-food choices.
It also signed a strategic agreement with Zhongbai Holdings Group Co Ltd, a major chain store owner in China's central and western provinces, inviting the supermarket to set up outlets in Sinopec's gas stations.
The State-owned company said it welcomes different forms of cooperation with e-commerce companies in its business, representing a further opening up to private capital.
At the same time, competition has intensified as more Chinese oil companies are determined to put more focus on their non-fuel business amid a slump in crude oil prices.
Though not as large as Sinopec's non-fuel sales, China National Petroleum Corp is also expanding its non-fuel sales with an average growth of more than 20 percent year-on-year.
It said last year that consumers can pay at about 1,500 gas station through WeChat Payment, the mobile payment solution developed by Tencent Holdings Ltd, China's internet giant.