As the Qixi Festival, often known as Chinese Valentine's Day, draws near, this traditional day for lovers to express their love provides excellent opportunities for the business owners of China.
According to a beloved traditional Chinese folk tale, it is the day when the Weaver Girl (Zhinu) and Cowherd (Niulang) can finally reunite for a night after a year's separation. It is celebrated on the seventh day of the seventh month of the Chinese lunar calendar, and falls on Thursday, Aug 20 this year.
As a way to express love, couples usually send each other gifts, spend time together or dining in restaurants on this day, all of which are a boon for businesses.
Apart from popular gifts such as flowers and chocolates, other sectors including movies, restaurants and travel agencies may also benefit from couples' spending on this day.
Now let's take a look at what businesses will benefit from celebrations of the Qixi festival.
1. Florists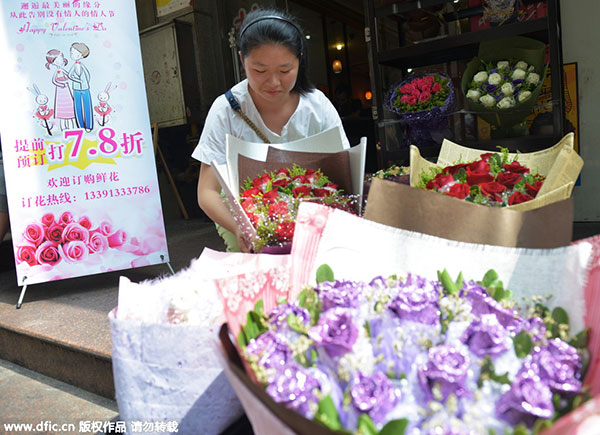 A florist organizes flower bunches in front of her shop in Shanghai, Aug 18, 2015. [Photo/IC]