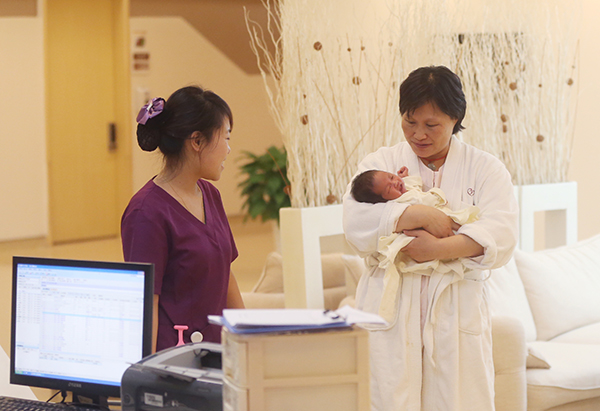 A baby born at a private maternity hospital in Beijing. More and more well-off Chinese are turning to privately owned hospitals for their high-end conditions and services. [Wang Yuyi/For China Daily]
Asian countries, particularly Japan and Thailand, have become popular destinations for medical tourism for their cost-effectiveness and well-matched tourism as well as medical resources, said market experts.
One of Thailand's major attractions is infertility treatment centers where tourists can receive in vitro fertilization treatment, or ovulation induction and assisted insemination.
There are about 100 such centers in Thailand, many of which are based in Bangkok where tourists can relax in resorts and visit the treatment centers only when needed.
The cost of such treatments, including a one-month stay, ranges between $7,000 and $30,000, which is about one-third of what it might cost in some developed countries, said Zhang Fangyue, a customer service officer with Wuhan-based De Bao Overseas Health Tourism.
Li Hailun, 34, from Wuhan said she had tried IVF at domestic hospitals but that did not help her conceive. She thinks that may be because she tends to be "nervous" and "pressured" amid friends, family members and relatives.
The latter, she said, often ask her about the treatment's effectiveness. This does not help her to rest and relax enough.
"The domestic hospital I went to actually has a great team, and advanced technologies, and I do trust the doctors and nurses there. However, one problem was that my relatives often asked me about the results, and that put a lot of pressure on me," said Li.
So, Li and her husband decided to shift to a foreign destination that is not too far from home. They went to Bangkok in December 2015, and Li is now expecting - her baby is due in October.
"Thailand is a good choice. Fortunately, I could rest in a beautiful resort in Bangkok. I felt more like a tourist than a patient receiving treatments. Only, my husband is with me so we can just relax.
He cooks for me, and that was perhaps the longest quality time we have had together after getting married," said Li.
The trip cost the couple about 150,000 yuan ($22,800), almost three times that of their previous attempts in their hometown, but they said it was worth the money.
"For a mother-to-be, perhaps the most important thing is to relax and to rest well, and Thailand's treatment center and environment can offer these," said Li.
Japan is a destination in Asia that combines hot spring therapy and medical treatment which are particularly appealing to elderly patients.
Hu Xinyu, a 78-year-old retiree in Shanghai, was diagnosed with a tumor in her left lung, and was prescribed radiation treatment. After her grandson Liu Dong did some research, the family decided to go to Japan for treatment.
"We consulted some relatives who work in hospitals and medical research centers, and they told us that proton treatment and heavy ion treatment may help my grandmother the best.
"We could have done it in a hospital in Shanghai, but my grandmother said she wished to appreciate Sakura (cherry blossoms) in March and visit some hotsprings in Japan because many of her friends had done so already. So, Japan was a natural choice for a medical tour," said Liu.
Thus, the grandmother and the grandson went to Tokyo in March for treatment, and visited some hot-springs, avenues and parks famous for Sakura. Hu visited the treatment center when needed on certain days, and Liu took her to her favorite restaurants, parks, shopping malls and hotsprings on other days.
The two-month tour cost the family about 6 million yen ($56,400) including some 4.2 million yen for treatment and health checks.
"The result of the treatment is quite good. My grandmother is quite happy that she isn't suffering from much pain. She feels she can still enjoy life - a sentiment that's quite positive for her recovery. We can't say we've seen the last of her tumor, but at least we tried our best to minimize its impact on our lives," said Liu.
Note: Names of the patients and their family members discussed in the story have been changed to protect their identity and privacy.