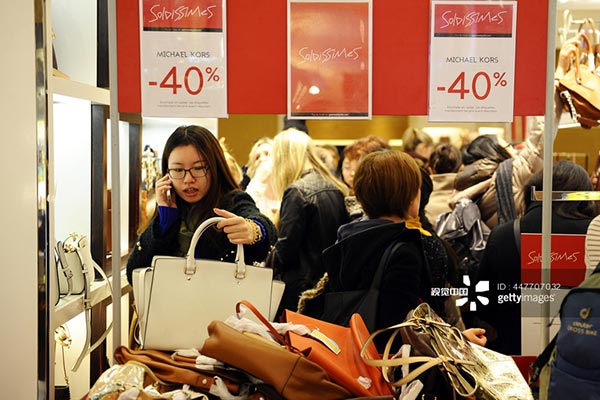 A Chinese woman selects a handbag at a mall in Paris during the French discount sales season. GETTY IMAGES
CITIC Capital Holdings Ltd is in discussions with a 20-year-old textile company which dyes cloth and exports mainly to West Asia, said Eric Xin, a partner at the private equity firm in Hong Kong. With the business squeezed by a combination of falling sales, rising labor costs and the yuan's appreciation in recent years, the 46-year-old owner wants to sell out completely and move to the United Kingdom, where he plans to educate one of his sons.
"It's an industrial company in a polluted industry," said Xin. "The kids don't want to be in these sunset industries. They want to be bankers and financiers."
In many cases, it's purely economic factors that are pushing China's entrepreneurs to sell out. CITIC Capital bought control of King Koil Shanghai Sleep System Co, a mattress maker, in 2014.
When CITIC Capital was first introduced to the company in late 2013, its biggest shareholder wasn't seeking an outright sale, Xin said.
Six months later, as sales to the hotel business deteriorated, stocks piled up and profit margins eroded, the owner changed his mind.
Sulger of Lunar Capital said he's hunting for fundamentally sound companies that are facing challenges that can be resolved with professional management.
Chinese snack food companies, for example, typically have net profit margins of 4 percent to 6 percent, roughly half of what overseas competitors boast, Sulger said.
In the early years after China opened up to buyout firms, they had to pay more in the rare instances when they were able to gain control.
As more companies have become available, the median enterprise value of deals involving a change of ownership has dropped to 7.2 times trailing 12-month earnings, according to data compiled by Bloomberg, from 11.6 times in 2014 and more than 17 times in 2013.