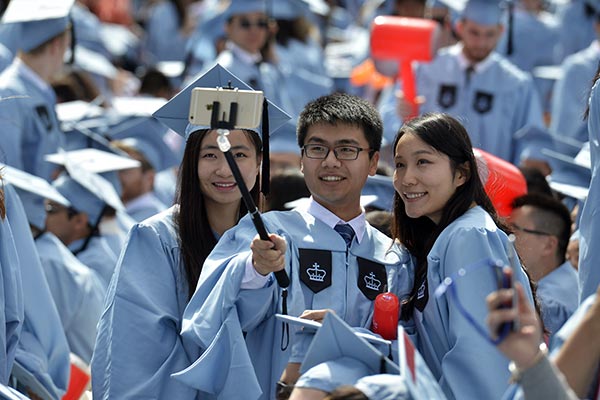 Three Chinese students take a selfie with an iPhone at their graduation ceremony in Columbia University, New York. China tops other countries in sending international students to the US, accounting for about 31 percent of the total.[Photo/Xinhua]
Deals involving a change of control accounted for 34 percent of the total value of private-equity transactions in China last year, more than double the share in 2014, according to Asian Venture Capital Journal.
Excluding so-called arbitrage deals, which typically involve delisting companies and taking them public in markets where multiples are higher, "control" deals jumped to a record $6.8 billion last year from $4.9 billion in 2014, the private equity research firm estimates. That's still just 13 percent of the total deal value.
Sulger said he is holding buyout talks with at least 10 Chinese companies whose founders or managers are looking to retire and sell controlling stakes.
Among them is a snack-food maker in Shanxi province whose founder's son went to university in Canada, did a stint at an investment bank in Hong Kong and is now working at one of the large accounting firms in the city.
"How can you expect the kid who left China during adolescence, grew up in Richmond in Vancouver, and then went to the University of Toronto, and then came back to run the family business in a rural part of Shanxi, to be happy?" Sulger said.
"These founders are very proud people" who want to see their companies continue to prosper even if their children don't want to take over, he said.
"What they are really looking for is a solution to the succession problem that they know they are going to face," said Sulger.