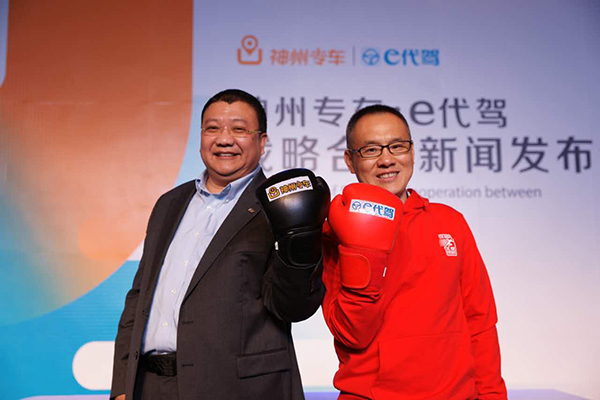 Charles Lu Zhengyao, chairman of UCAR Technology Inc, and Yang Jiajun, CEO of E-Daijia, poised for photos. The two companies announce their cooperation in Beijing, Oct 15, 2015. [Photo provided to chinadaily.com.cn]
Ride-booking giant UCAR Technology announced it has agreed to a strategic partnership with the country's leading designated chauffeur platform, E-Daijia, on Thursday.
The two companies will cooperate in marketing promotions and driver as well as platform sharing, said UCAR Chairman Charles Lu Zhengyao at the launch ceremony. He didn't disclose the amount of capital investment involved.
The move came amid regulatory turmoil, as the Ministry of Transport bans the use of private cars in its draft rules for online ride-hailing services, the industry watchdog announced on Saturday.
The ban, once passed, will be a potential blow to current market leader Didi Kuaidi and US-based Uber Technologies, said analysts, while UCAR responded, saying its services are in line with government guidance.
Having emerged since last year from an extension to taxi hailing, chauffeur-driven, car-on-demand services in China have become increasingly popular.
"Together, UCAR and E-Daijia will form the strongest commute platform on the mobile end. The cooperation will be marked as a milestone event in the industry," said Lu, adding that the investment may expand in the future.
UCAR, a separately-operated brand under the country's leading auto rental provider CAR Inc, started the online ride-booking service in January among the latest contenders.
The company has ranked as the No. 1 market player among high-end customers, who spend at least 60 yuan a trip, said Lu, citing an industry report by consultants Roland Berger.
He added that UCAR completes about 300,000 trips on an average day, and 70 percent of the application downloads are made by iPhone users.
Founded in 2011, E-Daijia serves as a platform pairing drivers with clients who do not wish or are unable to drive their own vehicles.