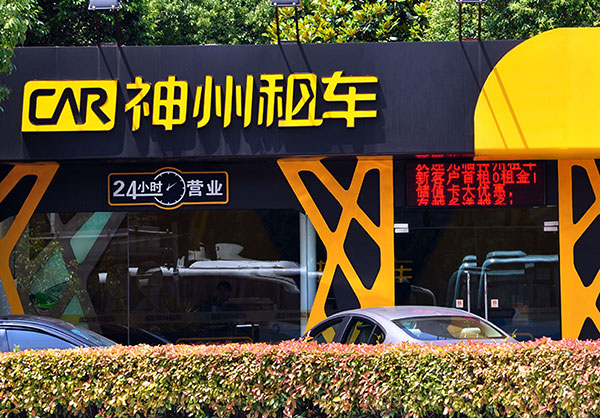 Vehicles parked outside a China Auto Rental Ltd outlet in Shanghai. [Zhou Dongchao / For China Daily]
After adding more than $10,000 for a car license plate in Shanghai onto the cost of maintenance, parking and insurance, Debby Yin decided to rent.
"The cost of a car number plate is scary and Shanghai's taxi drivers are crazy," said Yin, who has been living in the city for a year. "Renting a Polo or Skoda is less than 100 yuan ($16) a day."
Automobile hiring in China is big business and investors are keen to finance its growth. Car Inc, raised $300 million selling bonds this week, after attracting orders for 10 times that amount, while eHi Car Services Ltd was marketing notes before opting not to proceed. Roland Berger Strategy Consultants forecasts the industry, worth about $4.3 billion in 2013, will grow more than 20 percent a year through 2018.
"Car rental in China is a hot spot enjoying exponential growth," said Vicki Shen, an associate director at Fitch Ratings Ltd in Hong Kong. "The sector has huge potential as people gradually accept the car rental idea."
Vehicle sales in the world's biggest market are forecast by an industry association to slow this year.
As regulators introduce tougher controls to prevent gridlock on roads and improve air quality, more Chinese are embracing the concept of renting. The cheapest number plate on the Shanghai government's online plate bidding platform Alltobid.com was 83,100 yuan in July, more than buying a sport utility vehicle from BYD Co outright.
The size of China's car rental market almost tripled to 27 billion yuan from 2009 to 2013 and is expected to reach 51 billion yuan by 2017, data from Frost & Sullivan Inc show.