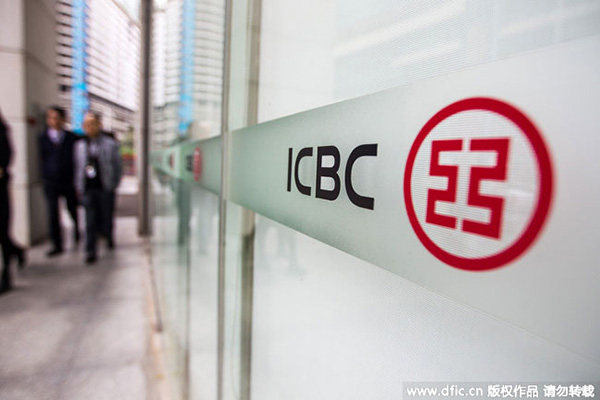 Pedestrians walk past a branch of ICBC (Industrial and Commercial Bank of China) in Shanghai, China, Dec 4, 2014. [Photo/IC]
Industrial & Commercial Bank of China Ltd has become the latest Chinese bank to consider joining the auction process that sets gold prices in London.
ICBC may join the London process directly or through its United Kingdom-based Standard Bank Plc unit, Zhou Ming, general manager of the precious metals department at ICBC, told the London Bullion Market Association Conference on Thursday in Shanghai.
Bank of China Ltd last week became the first Chinese bank among the 10 participants in the twice-daily auction.
"It will greatly benefit the London gold fix to include the Chinese banks as China is the world's largest gold consumer now," said Jiang Shu, chief analyst at Shandong Gold Financial Holdings Capital Management Co. A separate yuan-denominated gold price in Shanghai "in the future may present some competition to the London fix", Jiang said.
China is boosting its influence in global commodities and currency markets as it seeks to make the yuan a viable competitor to the dollar. The government wants to add the yuan to the International Monetary Fund's basket of reserve currencies.
"We Chinese banks want to expand our reputation and brand influence in the Western market," Zhou said.
London's new gold-pricing process started earlier this year as a more transparent alternative to a previous method in which banks participated by phone. London is the world's largest market for over-the-counter gold trading with an average of $20.2 billion in the metal changing hands each day in April, clearing data from the LBMA show.
More Chinese banks will probably take part in the new London auction, Grant Angwin, chairman of the LBMA, said on the sidelines of the conference. China Construction Bank Corp is expected to join as a member "in the coming weeks," Intercontinental Exchange Inc said on Monday.
China's gold consumption may reach 1,000 metric tons this year if its stock market reverses its rally and investors seek haven investments, Roland Wang, China director of the World Gold Council, said on Wednesday. The country consumed 973.6 tons last year, according to the WGC.