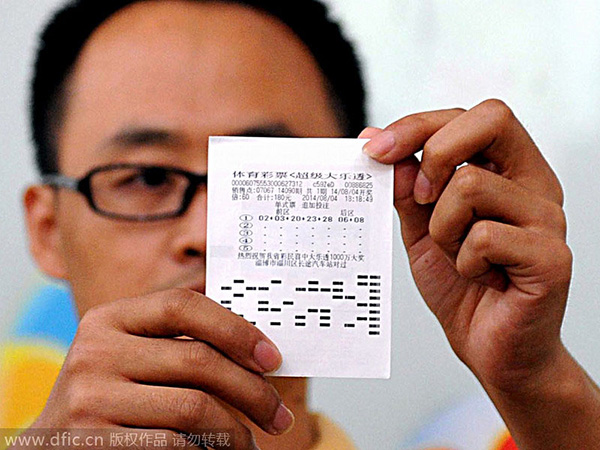 An employee shows a lottery ticket in Jinan city, East China's Shandong province, on Aug 11, 2014.[Photo/IC]
A quarter of China's lottery funds have been misappropriated, according to the country's first large-scale audit of the industry, which has called for a prompt cleanup.
A total of 16.9 billion yuan ($2.72 billion) in lottery funds were used illegally, the National Audit Office said on Thursday. This represented more than 25 percent of all lottery funds received between 2012 and last year.
A report on the office's website said the audit-carried out in November and December-covered 18 provinces and 228 lottery sale institutions nationwide, as well as 4,956 lottery projects involving public welfare funds.
Auditors found the funds were misused through the purchase and establishment of office buildings, or had been embezzled. Some officials in lottery shops also benefitted illegally from the funds through fake lottery projects, the report said.
The audit found that 17 provinces broke the law by holding lottery sales on the Internet without approval from the Ministry of Finance. Thirty-two lottery shops misused more than 3.1 billion yuan to build office buildings and training centers, the report said.
A total of 122 departments used lottery funds to buy public vehicles and to organize overseas travel for officials to hold meetings or training sessions, the audit found, adding that 144 departments also allocated the funds illegally to staff members as subsidies.
An official, who was not named by the audit office, said on Thursday that the audit found 90 important clues to violations of the law and discipline. These had been handed to the authorities.
"Some officers in lottery departments lacked legal awareness and did not enforce laws strictly, and weak supervision of the industry also bred these problems," the official said.
The audit office called on departments to rectify the situation and for the industry to be more transparent, the official said.
By May 31, a total of 14.5 billion yuan had been recovered or turned over to state financial authorities, the report said, adding that some officials uncovered by the audit had been blamed.