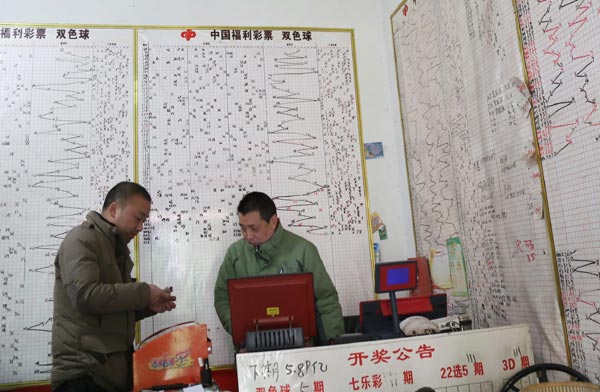 A lottery station in Wenxian county, Henan province. Chinese regulators plan to tighten their grip on the yet-unregulated online lottery sales. [Photo/China Daily]
China's fast-growing online lottery sector is likely to face a radical reshuffle after regulators tightened their grip on the yet-unregulated industry.
In a rare move, the Ministry of Finance, along with seven other ministries and government agencies, issued a joint announcement last Friday saying it planned to ban unauthorized online lottery sales.
The ministry pointed to "rampant irregularities" in online lottery sales and said that organizations have been offering services without official authorization.
According to a statement, some Internet companies have even sold fraudulent lottery tickets. The official notice has led to a complete halt in online lottery sales in China as Internet companies suspended activities awaiting further policy clarification.
China has two State-run lotteries: the China Sports Lottery and China Welfare Lottery. The Ministry of Finance previously approved two companies, 500.com Ltd and China Sports Lottery Operation Co Ltd, to engage in online lottery sales under a pilot program.
The government notice reiterated that any entity or institution without the approval of the Ministry of Finance should not engage in online lottery sales.
Industry sources suggest there could be as many as 400 Internet companies reportedly involved in online lottery sales, generating more than 85 billion yuan ($13.8 billion) in revenue, accounting for 22 percent of total national lottery sales.
Su Guojing, founder of the China Lottery Industry Salon, a quasi-industry association, said the rapidly growing online lottery sector is in urgent need of official legislation and regulation.
The current regulations lack a clear and detailed mechanism, creating many loopholes for Internet companies and local lottery sales centers to manipulate, Su said.
"The latest government statement signals a major reform of the lottery administrative system may be on the way," he said.