An increasing number of Chinese companies are emerging on the world stage as they strive to establish their brands outside the country. This report, the sixth in the series, is by Wang Wen.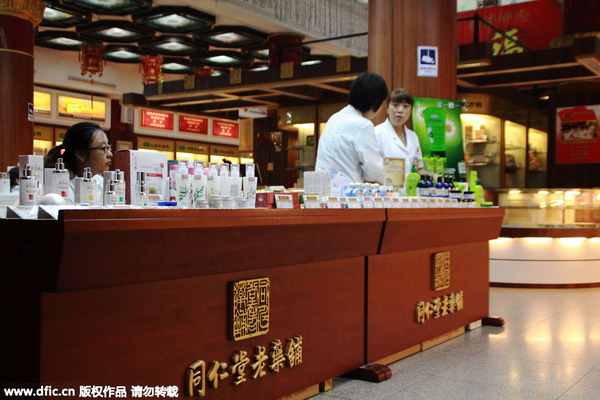 Workers communicate with each other at a chain store of Tong Ren Tang in Beijing, Sept 7, 2014. [Photo / IC]
Though some traditional Chinese brands have found it difficult to establish a presence in the highly competitive consumer market, China Beijing Tong Ren Tang Group Co Ltd has not only found a solution, but also managed to carve a niche for itself in the global market.
Tong Ren Tang, a world-famous Chinese drugstore, was established in 1669 by Yue Xianyang, an imperial physician, who worked exclusively for the royal family in the Qing Dynasty (1644-1911). Little did Yue realize that the pharmacy he started would one day have spread all over the world.
Over the years, the company has not only maintained its leadership as the country's largest producer of traditional Chinese medicines, but also expanded its business scope to the broader healthcare industry.
"Today Tong Ren Tang is synonymous with traditional Chinese medicine. We have been expanding aggressively into overseas markets during the past two decades," said Mei Qun, chairman of the group.
According to Mei, the company has more than 2,000 retail stores and of this nearly 110 are overseas. The chairman said the number of international stores would grow considerably in the next few years as Tong Ren Tang is exploring several new markets and even considering a regional headquarters in Europe.
"Our confidence stems from the huge demand for traditional Chinese medicines in overseas markets," Mei said.
The company's "going abroad" strategy started in 1993 by tapping the huge Chinese community in Hong Kong, and was followed up by reaching out to the diaspora in Europe and North America, said Ding Yongling, deputy general manager of the group.
The second step occurred in 2003, when the group decided to set up a marketing network in mainstream Western countries, Ding said, adding Tong Ren Tong already has stores in Australia, Canada, New Zealand and the United Kingdom.
The company focuses on four main business areas in overseas markets-medicine production, pharmacy, medical treatment and traditional Chinese medicine culture, Ding said.
Till date, 30 million overseas residents have received traditional Chinese medicine treatment from Tong Ren Tang, she said.
Tong Ren Tang will establish healthcare centers in other Western nations to promote traditional Chinese medicine treatment for good health, said Ding, adding it is also planning to team up with local universities to train talent.
"Tong Ren Tang will be present wherever people have healthcare demands," she said.
Strong support from the government, growing overseas demand and overseas recognition of traditional Chinese medicine have all combined to create unprecedented global growth opportunities for Tong Ren Tang and other traditional Chinese medicine producers, Ding said.
China will cooperate with the World Health Organization to accelerate the overseas development of traditional Chinese medicine, President Xi Jinping said earlier.
The government is also planning several other steps to encourage traditional Chinese medicine companies to go abroad, such as building a standard system, providing tax refunds and improving the image of traditional Chinese medicine in overseas markets. Some Western countries and regions, including more than 40 states in the United States, have accepted acupuncture, one of the main traditional Chinese treatments, as a legal alternative therapy.
Mei said acupuncture has gained the maximum traction abroad. However, because of some policy and legal limits, it is not easy for several other traditional Chinese medicine streams to gain global acceptance.
To further expand its overseas presence, Tong Ren Tang is hiring more talent locally for its overseas branches, so that traditional Chinese medicine gains wider acceptance globally.