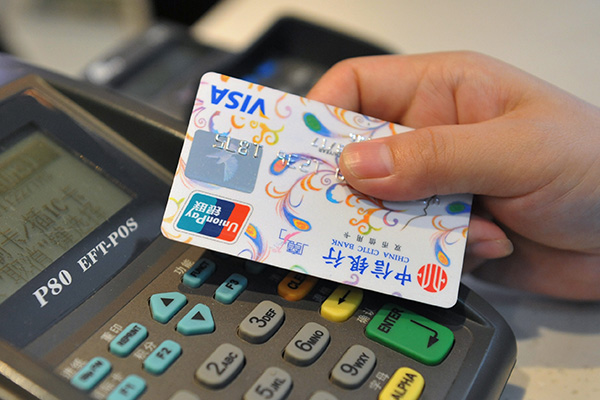 A customer makes a payment with a credit card at the market in Lin'an, Zhejiang province. The total number of credit cards in use was 424 million at the end of the first quarter of the year. [Photo/China Daily]
China's credit card lending hit a record high in the first quarter of the year, which reflected the government's plan to boost consumer spending.

The total amount credit card holders could borrow in the first three months climbed to 6.23 trillion yuan ($1 trillion), up 29.79 percent compared to the same period last year, according to a People's Bank of China report.
Total credit card receivables, the actually amount borrowed by customers on their credit cards, increased to 2.55 trillion yuan, up 35.49 percent from a year earlier.
The central bank also reported that the average consumer credit line was 14,700 yuan in the first quarter, compared with 12,300 yuan during the same period last year.
The total number of credit card accounts in circulation was slightly down at 424 million in the first quarter from 455 million in 2014.
"The increase in credit card lending was due to the rise in consumer spending and improved regulation in the sector," said Yang Tao, a researcher at the Institute of Finance and Banking at the Chinese Academy of Social Sciences.
"As China's economy relies more on domestic spending, credit card lending will be a key driving force to support growth."
The central bank released regulations in April to allow foreign companies to enter the yuan-denominated bank card clearing market. This came into force on June 1.
Foreign companies, such as Visa Inc and MasterCard Inc, can now have direct access to a market valued at $6.84 trillion in 2014.
Overseas firms will be able to set up their own clearing companies in China and apply to the central bank for licenses, the State Council announced earlier this year.
"Opening up the market for bank card clearing will help improve the country's card clearing services through market competition," the People's Bank of China said in an April statement.
But the expanding credit card market needs to be carefully managed to avoid the risk of bad loans, according to Zhao Ping, deputy chief of the consumption economy research department at Chinese Academy of International Trade and Economic Cooperation, a think tank under the Ministry of Commerce.
"The credit card issuers cannot arbitrarily expand credit lines without any limit," Zhao said. "Who can borrow the money and how much can they borrow must be assessed under the risk management system."
Excessive competition in the credit card market would be dangerous without tough regulations, she said.