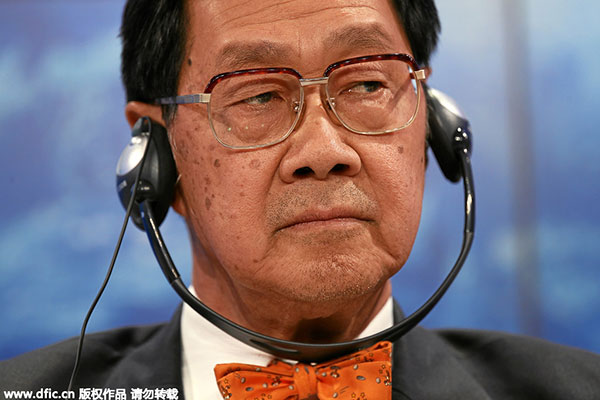 Pridiyathorn Devakula, Deputy Prime Minister of Thailand is captured during the session 'The ASEAN Agendar' in the Congress Centre at the Annual Meeting 2015 of the World Economic Forum in Davos, January 23, 2015. [Photo/IC]
China is "one to two years" ahead of Japan in helping Thailand upgrade its outdated railway network, the Thai deputy prime minister said in Hong Kong on Thursday.
Pridiyathorn Devakula denied recent reports that a Japan-backed line is to become his country's first high-speed railway, adding that Thailand is a "small country" that has to be friendly to China and Japan.
Japan had not yet said whether it would build a high-speed or medium-speed line, he said, noting that Japan would carry out a feasibility study before deciding the speed with Thailand.
"It is at least one or two years behind China," he added.
China and Thailand will meet at the end of this month for the fifth round of discussions on the details of jointly developing an 873-km medium-speed line between Bangkok and the northeastern Thai city of Nong Khai.
Trains would be able to travel on the line at between 160 and 180 km/h.
China and Japan have signed rail deals with Thailand, which sees a pressing need to build a dual-track network covering 2,470 km. It currently has 357 km of dual-track lines.
Pridiyathorn said it was China's choice to go for a medium-speed line. "We invited them to do high-speed, but they chose to go for medium-speed because they want to transport cargo."
The Chinese embassy in Bangkok declined to comment on this, but said a feasibility study for the project, signed late last year, is still being carried out and both countries hope to begin construction soon.
The first phase is expected to begin in November, although the financing arrangements have yet to be finalized. Pridiyathorn said funding would not be an obstacle for the project.
He declined to say whether construction would start on time, adding only that China was still sticking to the original plan.
In May, the Thai Cabinet approved a railway project to be built with Japanese help. This would cross Thailand from east to west, connecting Bangkok to the border towns nearest to Siem Reap in Cambodia and Dawei in Myanmar.
Earlier media reports said the 670-km route would be a high-speed line carrying passengers only and would use Japan's state-of-the-art Shinkansen system.
Zhou Fangye, an expert on Thailand at the Chinese Academy of Social Sciences, said, "Railways to serve both passengers and cargo are the most influential strategically."
China has been considering a 3,000-km line to Singapore from the southwestern province of Yunnan, which would pass through Laos, Thailand and Malaysia.
Although Pridiyathorn denied that China and Japan are in competition over railways in Thailand, Zhou said Bangkok would like to see the two countries in healthy competition to maximize its own interests.