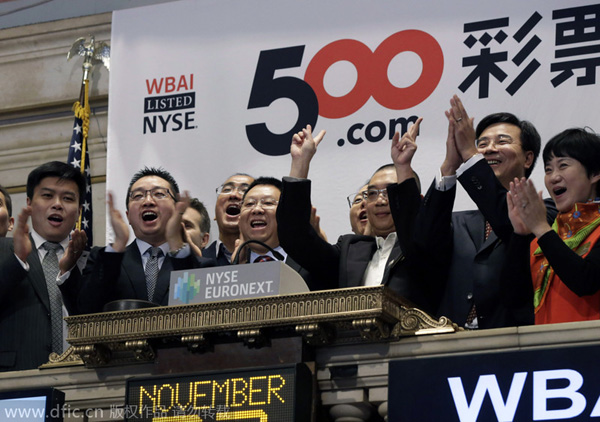 500.com Ltd, a Chinese online sports lottery operator goes public on the New York Stock Exchange on Nov 22, 2013. [Photo/IC]
Several law firms in the United States are looking into alleged wrongdoing by 500.com Ltd, a Chinese online sports lottery operator listed on the New York Stock Exchange.
Bronstein, Gewirtz & Grossman LLC, a law firm known for its aggressive class action lawsuits, said in a statement on Wednesday that its investigation into 500.com concerns whether the company violated the US Securities Exchange Act involving possible disclosure irregularities and insider trading. At least four other law firms have reportedly joined the investigation.
A spokesman for 500.com told China Daily on Thursday that the company had taken note of "the legal threat" but had not yet received an official complaint.
The legal dispute came after some provincial governments in China suspended online lottery sales in response to a notice issued by the Ministry of Finance ordering the industry to carry out internal inspections. The notice was part of China's effort to regulate the fast-growing industry plagued by illegal activity.
Analysts said possible legal action by foreign law firms against 500.com underscored the uncertain regulatory environment in China.
500.com is one of the two entities in China that have been approved by the Ministry of Finance to engage in online lottery sales on behalf of the China Sports Lottery Administration Center. But its operation is conducted under a pilot program because there is no official licensing system in the industry, and many unauthorized activities have led to claims of corruption and fraud.
"There is a lack of transparency, and there are also many legally murky areas in China for online lottery companies, which made it easy for foreign short sellers to target potential loopholes in their disclosure and financial reporting," said Li Zichuan, an analyst with Internet consultancy Analysys International.
Shares of 500.com sank to a record low on Wednesday, falling 22.37 percent to $9.96 after reports of the lawsuits emerged.
While the legal tangle may weigh on the company's stock price, the biggest issue for the firm is the suspension of online lottery sales and the surprise government audit, said Neil Flynn, portfolio manager at Alcuin Asset Management.
In response to the government notice, the company said in a statement that 500.com has suspended orders for four products that generate about 10 percent of its revenue.