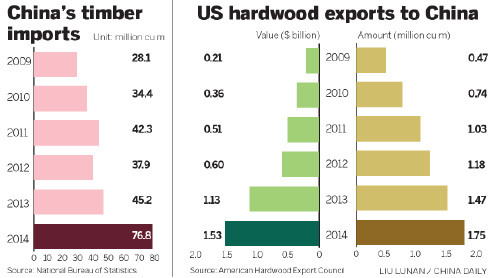 The export value of United States hardwood to China jumped 34 percent year-on-year in 2014 as the country increased its demand for more sustainably sourced materials for its urbanization program and for environmental projects.
The value of US hardwood products sold into China reached $1.53 billion last year, according to data from the foreign agricultural service of the US Department of Agriculture.
The most popular timber was red oak, tulipwood and ash, mainly for furniture, veneers, flooring, and decorative plywoods. The market now accounts for 42.6 percent of total export volume of US hardwoods, by far the world's largest single customer.
Chinese demand for US wood had been focused on the large population centers along the coast-cities such as Shanghai, Guangzhou, Tianjin and Beijing-with considerable amounts then re-exported as manufactured goods, as well as consumed locally.
The figures showed that the nation shipped furniture worth $54 billion to the global market last year.
But Mike Snow, executive director of the American Hardwood Export Council, said China's biggest cities away from the east coast-such as Chongqing, Sichuan province's capital Chengdu and the capital of Hubei province Wuhan-which were traditionally less well-equipped to process timber, are now offering the US industry tremendous opportunities.
"All the new homes, hotels, shopping centers, restaurants and office blocks being built need flooring, cabinetry, doors and windows, as well as building materials made using wood products," said Snow. "The potential is immense."
Headquartered in Washington DC, the council is a nonprofit trade association representing over 100 US hardwood exporters and trade associations.
John Chan, its regional director for China and Southeast Asia, said before the 2008 global financial crisis, much of the wood bought by China was re-exported in the form of furniture, flooring or other finished products.
Following the collapse of the US housing market and others in Europe, however, many Chinese manufacturers have been looking domestically for sales.
"The result has been ever higher demand for US hardwood," Chan said.
"Rising wages in China have created an exploding middle class, and new, additional demand for US hardwood products."