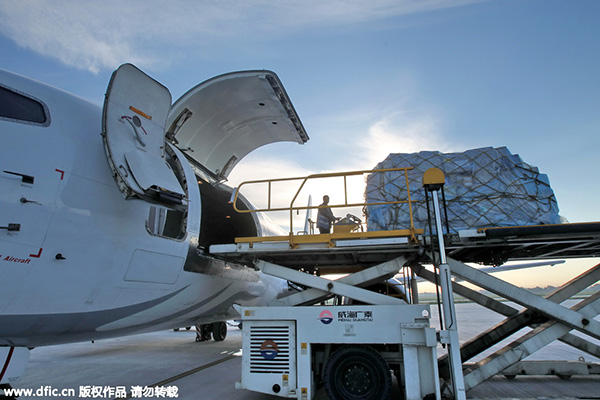 Workers load packages onto a cargo aircraft at Nantong airport, East China's Jiangsu province, Sept 4, 2013. [Photo/IC]
China's three largest airline cargo carriers will merge to form Asia's largest freight transport company, according to a senior official at the Civil Aviation Administration of China.
The three merging companies are Air China Cargo, China Cargo Airlines and China Southern Cargo, the Xinhua news agency quoted Zhou Laizhen, CAAC deputy administrator, as saying on Wednesday.
Zhou was also quoted on Thursday on the website of People's Daily as saying the companies were pushing ahead with the merger.
The reports did not provide a timeline or valuation for the deal.
"As far as I know, I am not aware of this development and I have never heard of this news," Titus Diu, the chief operating officer of Air China Cargo, said.
The CAAC declined to comment, a spokeswoman said.
Calls seeking comment from China Cargo Airlines and China Southern Cargo went unanswered.
Air China Cargo is a joint venture freight project between Air China Limited and Cathay Pacific Airways Limited. It has registered capital valued at 3.24 billion yuan and over 4,200 employees, its website shows.
China Cargo Airlines is a venture between China Eastern and China Ocean Shipping Company (COSCO). It has 950 million yuan in registered capital, according to its website.
China Southern Cargo is part of China Southern Airlines.
Related Story:
Belt and Road Initiative takes to the skies by Zhao Lei from China Daily
Civil aviation projects to increase regional connectivity with investment of $32b
About 200 billion yuan ($32 billion) will be spent to develop civil aviation projects linked to the Belt and Road Initiative.
"At the start of this year, we began to implement 51 important projects that are closely related to the Belt and Road Initiative, with an estimated cost of 200 billion yuan," Li Jiaxiang, director of the Civil Aviation Administration of China, said at the 2015 China Civil Aviation Development Forum that opened on Wednesday in Beijing.
More than 400 government officials, international organization representatives, industry leaders and experts from 24 nations and regions are taking part in the two-day meeting.
China built 15 new airports and expanded 28 existing ones in provinces involved in the initiative during the past two years, he noted. A total of 4.7 billion yuan was allocated to these provinces over the same period to upgrade air traffic control installations and equipment, he said.