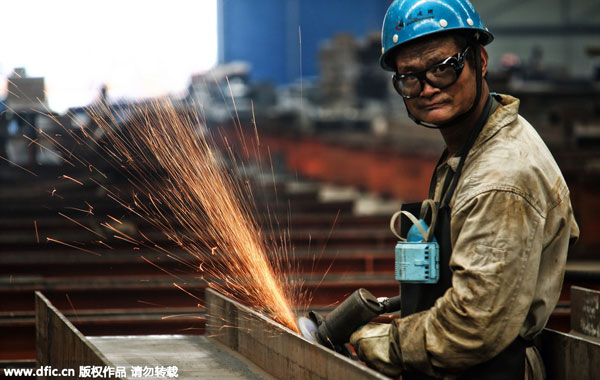 A worker processes steel products at a factory in Nantong city, Jiangsu province, June 8, 2014. [Photo/IC]
BEIJING - China's State Council, or Cabinet, announced a guideline for accelerating the nation's industrial cooperation with other countries on Saturday.
The government has issued a list of prioritized sectors in which it wishes to enhance such cooperation, including steel, non-ferrous metals, construction materials, railways, electric power, chemicals, textiles, automobiles, telecommunications, machinery, aviation and aerospace, ship building, and maritime engineering.
The guideline, released on the central government's website, said China will see developing nations as main cooperative partners in this drive, but it also seeks opportunities in developed markets.
The Chinese government sees industrial cooperation with other countries as one of the nation's most important agendas, as it gives China the chance to better its industrial prowess through upgrades and improve its international competence. Such cooperative projects will also boost employment and economic vitality in other countries.
By eyeing on various industries in the global market, China also expects to create new growth momentum to its economy, according to analysts.