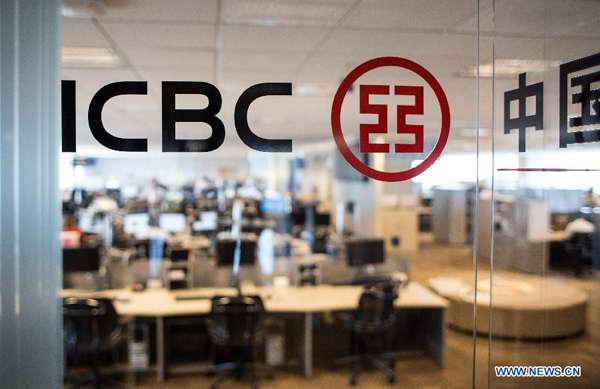 A branch of Industrial and Commercial Bank of China. [Photo/Xinhua]
Ability to provide integrated financial services gets more customers for traditional institutions
Driven by intense competition from large Internet companies, Chinese banks are deploying strategies for Internet-based businesses. Many traditional lenders are building their own e-commerce platforms to provide financial services, in addition to online shopping services.
Industrial and Commercial Bank of China Ltd, the largest State-owned lender by assets in China, launched a home selling service on its business-to-customer e-commerce platform, combining housing resources of real estate companies with its advantages in customers, financial services, as well as online and off line channels.
The bank has signed strategic cooperation agreements with seven major domestic real estate developers, including China Vanke Co Ltd and Evergrande Real Estate Group Ltd.
The developers post privilege cards for sale on the bank's e-commerce platform. Cardholders will get priority to visit and buy discount homes and offices provided by the developers. Those who finally make purchases will also receive online shopping coupons from the platform.
With the help of the platform, 12 developers have sold more than 1,000 homes and offices during the first five months of this year. Total sales revenues exceeded 1.1 billion yuan ($177 million). ICBC is also planning to launch online mortgage services in the second half of this year.
Yu Liang, president of China Vanke Co Ltd, one of the country's largest real estate developers by market value, said his company's transactions on the bank's e-commerce platform reached 120 million yuan within a month.
"This year, we will explore a closer model of business cooperation with the platform and provide integrated services during the whole process of online home buying, online payment and online finance. We hope that our sales will exceed 10 billion yuan on the platform this year and look forward to exploring a new model of e-commerce for real estate developers with the help of ICBC," Yu said.
Jiang Jianqing, chairman of ICBC, said the move to Internet finance is an inevitable one as it has the potential to become a major growth area for the Chinese economy. Internet finance has "great potential for growth" and is "full of vitality", said Jiang.
"ICBC welcomes a new round of growth by accelerating innovation that combines Internet with finance. We are pleased to help various kinds of companies to connect with each other and will provide more efficient and valuable financial services to consumers," Jiang said.
"The real challenge for ICBC does not come from cross-sector competitors, but in whether it can adapt to the financial environment in the age of the Internet and to the changes in customer demand, with an innovative and enterprising mind to embrace new trends in technological changes."
The bank's e-payment service has more than 50million accounts with transactions worth 65 billion yuan after a year's development, said Yi Huiman, president of ICBC.
Transactions on the bank's business-to-customer e-commerce platform exceeded 100 billion yuan by the end of March, with 16 million registered users after it opened for business in January 2014.