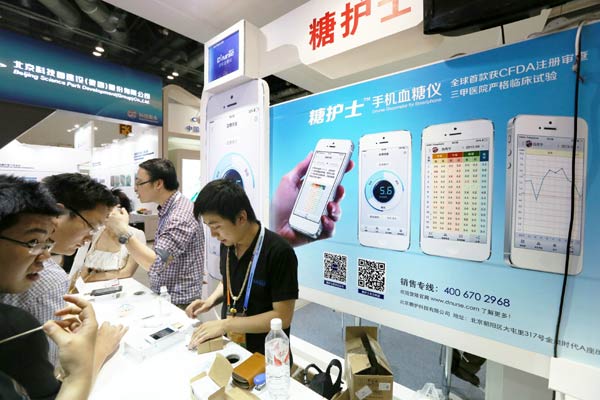 Mobile phones which can measure blood glucose attract attention of visitors at an exhibition in Beijing. LEI KESI/CHINA DAILY
The Beijing municipal government has joined forces with Baidu Inc, one of China's biggest Internet companies, to take health management to the next level by launching Jiankangyun, a health cloud that uses big data technology to offer pre-diagnosis assessments for users.
The health cloud service was introduced in late July and, according to Baidu, offers three levels.
The bottom level comprises smart devices, such as weighing scales, blood pressure monitors and wristbands. The middle level is a cloud-computing platform, which collects, stores and analyzes data through big data technology. The top level offers users healthcare - related consultancy services, such as tips on how to lose weight, advice to keep healthy and remote electrocardiogram monitoring.
The three-level structure provides a mechanism of "monitoring, analyzing and advising", which offers personalized healthcare services based on an individual's health condition.
Jiang Guiping, deputy director of the Beijing Municipal Commission of Economy and Information Technology, said that the program is a good tool to help the residents prevent illnesses so that the government can cut medical spending.
Jiang said that advanced technologies, such as big data, are the future of government management.
"The health cloud can serve as a data platform for residents to better take care of their health, and also help the government improve the overall health management by introducing better health-related policies because the data cloud gathers can even be broken down to a certain age group or a certain district in Beijing," she said.
Beijing expects to establish up to 10 experience centers next year with access to the health cloud platform established by Baidu. The centers will connect hundreds of smart medical treatment device producers to the cloud and set up e-health files for Beijing residents. The program is expected to cover millions of residents in the city within three years.
Li Mingyuan, vice-president of Baidu, said that the health cloud is valuable in terms of improving social well-being.
"The health cloud can link people directly with health services, allowing them to enjoy the modern medical revolution brought by new technology," he said.
Zhang Ruyan, marketing director of Tenghai Shiyang Technical Corp, a smart wristband producer, said the health cloud, which brings in third-party healthcare consultancies, can make the best use of wearable devices.
"Data generated by different people can be stored and analyzed in the cloud. Through big data technology, predictions can be made and people can be more proactive to fight potential diseases," she said.
Luciano Floridi, professor of philosophy and ethics of information at the University of Oxford and director of research at the Oxford Internet Institute, sees immense possibilities for what big data can do in the field of health both for present and future generations.
Up to now, the use of health data has been halted by a series of barriers, namely technological, legal and social, he said.
Floridi said at a recent forum held by Tencent Internet and Society Institute in Beijing that the most pressing issue at the moment is the social barrier - the public simply lacks trust in big data initiatives concerning their health because of privacy concerns.
Mu Chen contributed to this story.