Zeng Xiangquan, head of the school of human resources at Renmin University of China, says despite a recent slump in China's manufacturing sector and concerns over flagging GDP growth, wages will continue rising on the back of strong demand for labor that's being exacerbated by the advent of a rapidly aging workforce.
"The Chinese economy will continue to grow, irrespective of whether it's at the double-digit rate like a few years ago, or at the current, single-digit rate," he says. "The labor force, especially those under the age of 24, is decreasing while demand for labor is increasing."
Zeng says businesses in China are already competitively hiking wages, improving conditions and offering perks in a bid to attract a shrinking pool of workers.
But while the government is committed to improving wages and standards of living, Zeng says there's still a long way to go.
"The overall (average) wage in China is 10 percent of that in developed countries," he says.
While pay packets are increasing, some say the workload is going up, too.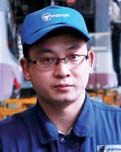 Xu Libo
On a factory floor near the outskirts of Beijing, Xu Libo pops his head out of a bus engine bay. Up and down the manufacturing line, other Foton automotive workers weld and grind and bolt the people movers together.
Xu, a 32-year-old migrant worker from Shiyan in Hebei province, says his wages have almost doubled to 5,000 yuan per month in the past five years. But there's a tradeoff. He now works an average of 11 hours per day, six days a week, compared with eight hours a day roughly two years ago.
A married father of one, Xu reckons more money for more work is a decent deal.
What they want...
Li the Foxconn supervisor now earns enough to have his wife and two children live with him in Shenzhen, a rarity for a migrant worker. His wish in life is to have financial security, so his children can follow their dreams.
Sun the Foxconn middle manager wants to continue climbing the corporate ladder.
Sitting at her sewing machine, Zhao daydreams about seeing her daughter more than twice a year.
Yang the manufacturing matron wants to earn more money.
Xu from the bus factory looks forward to the moment at the end of every shift when he phones home. His three-year-old daughter sings him songs and reads him Chinese poetry. One day soon, he hopes to be with her in person, when she does.
Xu wants to take his entire family on a holiday. They've never had one.
Jiang is proud that she makes things that are used everyday by people all over China, and the world. She also believes hard work in her country can produce more than just iPhones and buses and clothing.
"I believe you make your own destiny."
Xie Wenjia contributed to this story.