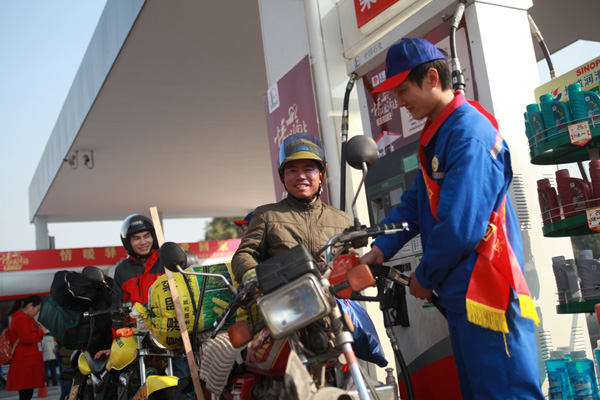 A worker of Sinopec Guangdong Oil Products Company offers free gas to migrant workers who are traveling home for Spring Festivals by motorbike in Foshan, Guangdong province, on Jan 23, 2014. Foshan mayor said the city plans to distribute 20% of public rental houses to migrant workers. [Photo / China Daily]
A national legislator from Guangdong province believes migrant workers have the same right as their urban peers to share public rental houses subsidized by the government, Southern Metropolis Daily reported.
Foshan plans to distribute 20% of public rental houses to migrant workers, according to Liu Yuelun, a deputy of the National People's Congress (NPC) and mayor of Foshan.
Liu said professional managers would be employed to manage the development of the collective economy in the countryside while measures should be taken to facilitate the urbanization of farmers. It is a good way to grant public rental houses to farmers who are employed in cities, said Liu.
The number of nonlocal migrant workers in Foshan totals about 1.3 million. The key to solving their problems is to guarantee them urban public service, including housing, social security and their children's schooling, according to Liu.
There are more than 8,000 government-subsidized houses to be finished this year. The mayor plans to distribute one fourth or fifth of them to migrant workers. A detailed plan is being drafted.
In Liu's eyes, migrant workers are the main contributor to the development of Foshan. "Without them, it's impossible for our city to achieve such a development. They're what we really depend on," Liu said.