The National Development and Reform Commission said on Monday that government investment has not crowded out private investors, and the central authorities will make every effort to facilitate private investment.
According to the National Bureau of Statistics, private fixed-asset investment in the first half of the year hit a record low growth rate of 2.8 percent year-on-year, a sharp decline from 10.1 percent in December. The share of private fixed-asset investment in total national fixed-asset investment from January to June also dropped by 3.6 percentage points compared with a year ago.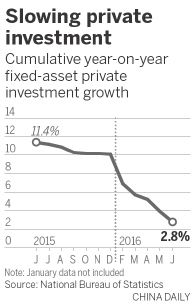 Zhang Yong, vice-minister of the NDRC, said at a news briefing on deepening reform of the investment and financing system that there's no crowding out effect of government investment on private investment, because "government investment and private investment focus on different fields".
According to Zhang, investment by governments at various levels using national budgeted funds accounts for only 5 percent of overall national investment. Such investment is concentrated in infrastructure construction and key livelihood projects, where private capital is unwilling to invest due to the long investment cycle and low returns.
In recent years, the government has seldom invested in manufacturing and real estate industries, and the main focus of government investment is fields where private investors would not like to invest, Zhang said.
"Government investment and private investment play their roles in various fields, which complement each other," he added.
But the sharp decline of private investment in the first half of this year shows the sluggish momentum of "endogenous"- or internal-investment growth and the remarkable pressure of the economic downturn, said Xu Kunlin, deputy secretary-general of the NDRC.
Zhang said it would be difficult for private investment to maintain its high growth rate given that China is entering a new normal of medium to high economic growth.
The manufacturing sector, where private investment is concentrated, faces great challenges due to the global economic downturn and domestic economic transition. In addition, inefficient government services in the investment and financing fields, as well as the high costs and the difficulties in obtaining financing also undermine private investment growth.
The State Council issued a document on July 18 addressing the deepening reform of the investment and financing system.
"Detailed measures include stimulating the vitality of the manufacturing industry in an all-around way, supporting technological reconstruction of traditional enterprises, actively eliminating overcapacity and accelerating the cultivation of new momentum and the new economy," Xu said.