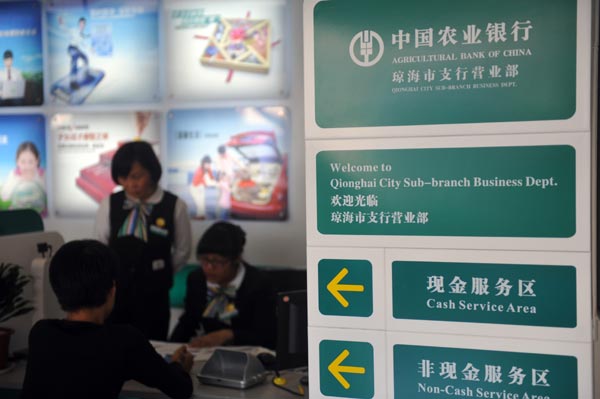 An Agricultural Bank of China Ltd branch in Qionghai, Hainan province. [Photo/China Daily]
Agricultural Bank of China Ltd, the country's third-biggest commercial lender by assets, will issue 3.06 billion yuan ($459 million) of securities backed by nonperforming loans in the interbank bond market on Friday.
The senior tranche of the securities with a three-year maturity is worth 2.06 billion yuan, accounting for 67.3 percent of the total. The equity tranche with a five-year maturity is worth 1 billion yuan, according to documents posted on the website of China Central Depository & Clearing Co Ltd.
The securities are backed by 1,199 loans to 204 borrowers spread in industries from the wholesale and real estate to the textile sector. The bank said that by March 21, the balance of unpaid principal plus unpaid interests had totaled 10.73 billion yuan. The amount of NPLs that can be recovered is expected to be 4.37 billion yuan.
Statistics from the China Banking Regulatory Commission showed that as of June 30, the NPL ratio of commercial banks had increased six basis points from the previous quarter to 1.81 percent.
The NPL balance had reached 1.39 trillion yuan by the end of March, up from 1.27 trillion yuan at the end of 2015.
"Commercial banks can no longer rely on the traditional ways to dispose of nonperforming assets, such as liquidation, write-offs and transfers. Securitization of nonperforming assets is one possible way for them to improve their asset quality in an efficient and cost-effective way," said PwC in a recent commentary.
"However, securitization still faces a few obstacles, including valuation, pricing and investment demand for the products, as well as policy and legal considerations."
Pilot program
The ABC's issuance of securities backed by NPLs will become the largest of its kind so far, after China relaunched a pilot program on bad loan securitization earlier this year.
The banking regulatory authorities selected five of the biggest commercial lenders by assets and China Merchants Bank Co Ltd to participate in the program, with a total of 50 billion yuan set as the initial quota.
Later, the regulator said during a conference two weeks ago that they would allow more banking institutions to join the exploration of bad loan securitization.
In May, Bank of China Ltd sold 301 million yuan of securities backed by corporate NPLs, and China Merchants Bank sold 233 million yuan of securities backed by credit card NPLs.
On June 28, China Merchants Bank issued another 470 million yuan securities, which are backed by small and medium-sized companies' NPLs.