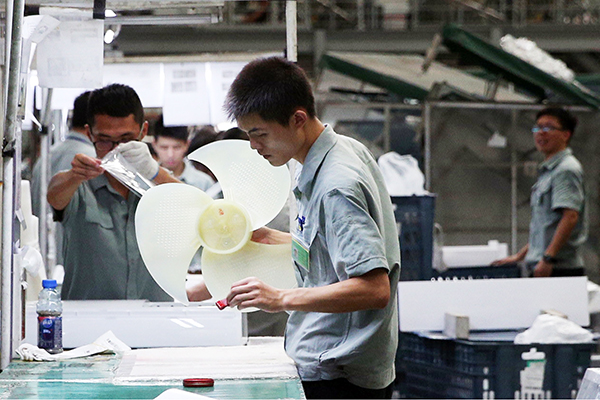 Gree employees produce air conditioner parts at the production line in the company's plant in Zhuhai, Guangdong province. [Photo/China Daily]
Air conditioner maker broadens its product range to smartphones and new-energy vehicles
Gree Electric Appliances Inc, one of China's major air conditioner makers, has developed an ambitious plan to diversify its business to sustain its market growth in the near future, according to its president.
Dong Mingzhu, Gree's president, said the company's business will range from its backbone air conditioners and white goods to smartphones, new-energy vehicles and intelligent equipment.
"The diversified businesses are based on Gree's already-developed core technologies, especially in the smart electronic areas," said Dong.
Dong made the remarks during a seminar featuring China's manufacturing industry, over the weekend in Beijing.
"Only if China's manufacturing industry is integrated with smart technologies and focuses on quality will it succeed in the global market in the near future," Dong said.
Citing the company's newly launched second generation of smartphones, Dong said Gree will attach the utmost importance to quality and technology when developing new products.
"In addition to the introduction of a series of high-tech components, the phones will allow customers to control wirelessly connected household appliances, such as air conditioners and refrigerators, helping make their lives more convenient," she added.
Gree launched its second generation of smartphones in June, after a nearly one-year trial operation of its first batch, which were only sold to employees for testing purposes.
According to Dong, Gree has self-developed two processing lines of smartphones, with daily production capacity of no more than 1,000.
"We are not achieving big sales of smartphones-at this time, we are more concerned with product quality," Dong told China Daily.
Dong said she wants the daily sales of the second-generation phones to eventually reach 100,000 units.
"We will achieve the goal in the near future, but not at this time. For Gree, the success of making smartphones is to win customers' recognition-we will do our best to make it the best (product) both in brand and quality," Dong said.
Gree, which is an official supplier to the upcoming Rio Olympic Games, realized a year-on-year increase of 0.56 percent in sales in the first quarter of 2016, amid a slowdown in global demand for home appliances.
"Smart equipment will be a key area for Gree's future development as we have already invested up to 20 billion yuan ($2.99 billion) in the sector since 2012," said Dong.
"We have developed core technologies in numerical control machines, which will provide services for numerous manufacturers in the future," Dong said.
Xu Lin, director of the National Development and Reform Commission's department of development planning, said: "Gree has turned itself from simply being a traditional maker of air conditioners to a manufacturer of various electric home appliances. By focusing on advanced technologies, the company will likely develop into a high-end service provider to China's traditional manufacturing business."