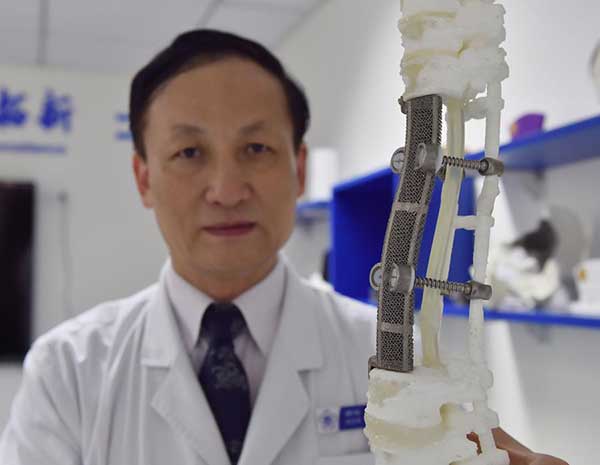 Chinese doctors set a new record in a spinal operation to replace five vertebrae with 3D-printed replicas. The 3D-printed vertebrae measured 19 centimeters, the longest ever in a successful operation.[Photo/Xinhua]
China is estimated to have a market in the new tech worth 20 billion yuan by 2018
A patient suffering from a malignant tumor recently received unconventional, almost science fiction-like yet real and successful treatment. His doctor replaced five affected segments of his spine with a 19-centimeter-long metal part that was created using a 3D printer.
Doctor Liu Zhongjun performed the surgery a month ago in Peking University Third Hospital.
"We used to use titanium mesh stuffed with crushed bones from the patient or other bodies to replace the spines. However, this method was far from ideal, because if the titanium mesh changed position, the patient would be paralyzed, and the column-shaped mesh didn't match the S-shaped biological curve of human beings," said Liu, head of the 3D printing artificial vertebral body research team, which is recognized by the China Food and Drug Administration.
The 3D printing technology has enabled surgeons to custom-make replacements for spine. The flexible metal spine is said to readily connect to other bones and form a stable link, supporting the body. With it in place, a patient can move freely soon after the operation, and can live and work like a normal person, according to Liu.
Welcome to the fascinating world of 3D printing. Theoretically, a 3D printer can 'print' or create anything drawn on paper into a three-dimensional object.
The technology is formally called additive layer manufacturing by researchers and scientists. In the past few years, 3D printing has surprised many by creating things from clothing to homes to machine parts to even drones.