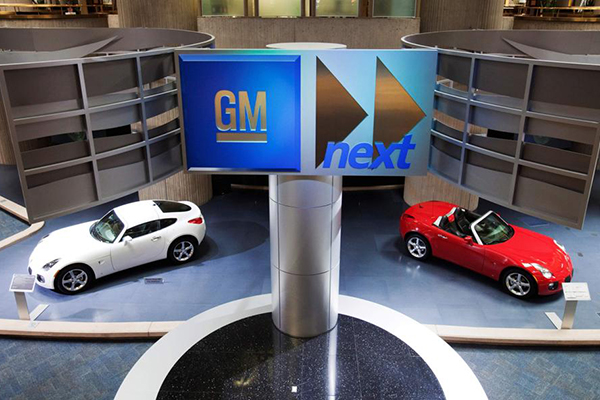 Cars on display at the General Motors Corp world headquarters in Detroit. Among the automakers that have issued recalls in China in the first half of 2016, SAIC GM ranked first by recalling 2.2 million cars in three batches. [Photo/Agencies]
Figures have jumped to reach a new peak but are still lower than in developed markets
The number of cars recalled in China reached a record high of 6 million in the first half of this year, more than those recalled in the whole of 2015, statistics from the country's top quality watchdog show.
The General Administration of Quality Supervision, Inspection and Quarantine issued 69 recalls from Jan 1 to June 30, involving 5.99 million cars from about 30 brands. Last year, 5.54 million cars were recalled.
Zhou Lei, an independent auto analyst in Beijing, said the rise in the number of cars recalled did not necessarily mean that more cars are shoddily made.
"The fact that automakers issue recalls proves that problems are exposed and solutions are found," Zhou wrote in his WeChat column. "What really worries customers is when problems are concealed and cars are not recalled."
Among the automakers that have issued recalls, SAIC GM ranked first by recalling 2.2 million cars in three batches, accounting for around 37 percent of the total in the first six months. One recall in May involved 2.16 million cars and was due to possible faulty engines.
"We have received a high number of consumer complaints about engine problems about cars made by Shanghai GM, and due to our investigation the automaker decided to make the recalls and solve the problems," the watchdog said in a statement on May 26.
Experts say that the new generation of consumers, mostly those born in the 1980s and 1990s, are more concerned about their rights than previous generations.
The general administration has shown more initiative in collecting information, conducting investigations and prompting recalls since it released a detailed regulation on car recalls that took effect from Jan 1. China introduced the recall system in 2004.
Earlier this year the administration initiated probes into Volkswagen and Porsche after reports of their overseas recalls due to brake problems, prompting a recall of about 200,000 cars in China.
Takata airbags are a major culprit in car recalls in China. They resulted in 16 recalls in the first half of the year from Honda, Toyota, Nissan and Mazda that combined involved more than 1.5 million cars, about a quarter of the total.
On Friday, GAC Honda issued recalls of more than 1.82 million cars due to faulty airbags.
Last year, the airbags resulted in recalls of 3.5 million cars in the Chinese market, mostly from Japanese automakers.
Globally, recalls started in 2008 due to fears that Takata airbag inflators might blow out metal shards and injure passengers. They reached a peak last year, and to date more than 40 million cars have been recalled worldwide due to faulty Takata airbags.
In the premium segment, Porsche topped the list by recalling 108,910 cars in the Chinese market. It was followed by Infiniti, Nissan's premium arm, which recalled more than 57,000 vehicles due to programming problems that may result in the failure of front-row passengers' airbags.
Few Chinese brands recalled cars in the first half of this year. Great Wall, Geely and JMC combined recalled 10,760 cars, about 0.2 percent of the total.
Some industry insiders say the few number of cars recalled by Chinese automakers is because of their relatively smaller market share, while others claim that customers have lower expectations of Chinese brand cars so they file fewer complaints.
Despite the surge in the number of cars recalled in China, the figure is far smaller than in developed countries.
The United States recalled 51 million cars in last year, when 17 million new cars were sold. In the same period, more than 24 million cars were sold in China while only 5.5 million were recalled.