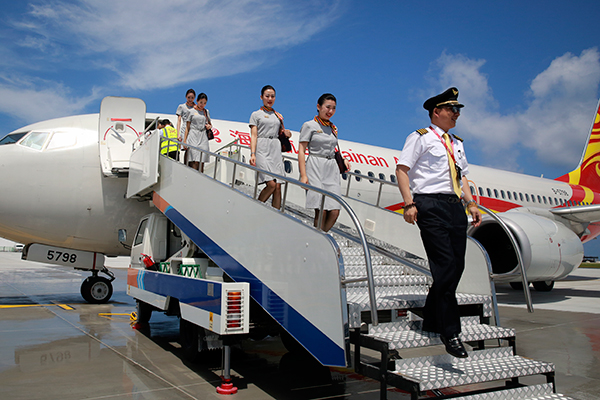 A Hainan Airline flight crew disembarks. Major listed aviation companies are facing rising fiancing cost and risks to profit margin due to a stronger dollar. [Photo/China Daily]
But export-driven firms get glad tidings from a pick-up in overseas orders
Stocks as well as business operations of A-share companies across industries are feeling the impact of renminbi's weakness against the US dollar and other major currencies such as the euro.
The Chinese currency plummeted to a five-year low of 6.689 yuan against the US dollar in onshore exchange market on July 18, the lowest since October 2010.
China's currency trading authorities attributed the fall to the gap in market supply and demand.
Increasing numbers of Chinese enterprises are going global. This is making them demand more international currencies.
According to a note by the China Foreign Exchange Trade System earlier this month, as China's price level rises, renminbi appears weaker, unable to stabilize around the actual exchange rate.
Sectors involving imports and exports of materials, services or products are feeling the impact of the yuan's weakness the most. Some companies are experiencing rising pressure of cost management. Others are benefiting from cheaper costs or an increase in export orders.
In June, the yuan depreciated by 1 percent against the dollar and 2 percent against the CFETS Index. Although the PBoC reassured on the stability of the CNY Index, the fact remains that year-to-date, the yuan has depreciated by 6.4 percent against a basket of currencies.
In the same period, the yuan fell 3 percent against the dollar, according to a research note by UBS AG.
Automobile makers are among the enterprises whose shares got hammered as their imported material costs rose amid the exchange rate fluctuations, potentially affecting their profitability.
Typically, depreciation of a currency affects the stock market of the country concerned. International investors withdraw due to concerns of erosion of value of their holdings. This causes capital outflows, rendering trading inactive.
But many sectors have been recovering steadily in the first half of 2016. So, the impact of the yuan's depreciation on them may not be acute, particularly on companies focused on domestic end-users, according to a research note by Guolian Securities.
Some industries like automobile, however, are more affected than others. Nine automobile makers whose stocks are part of the A-share market saw their equities decline more than 1 percent last week. For instance, JAC Co Ltd fell more than 2 percent.
Many of the materials used by automobile makers are imported from other countries. Such trade deals are settled in dollar terms. But finished products are sold in the China market in yuan. A stronger dollar would mean higher costs and lower income, said a research note from hc360.com, an online platform focusing on the automobile market.
Similarly, companies that rely heavily on imported materials or commodities, such as ore, non-ferrous metals, soybean, timber and oil, may experience material cost pressure, particularly when their products are mainly sold in China and settled in local currency.
Airlines and real estate developers are facing rising financing cost, according to a research note from Guohai Securities.
China's airlines' major financing sources are US dollar-denominated bonds or loans. A stronger dollar will likely increase their financing costs and dent profit margin.
Similarly, developers that borrow from foreign banks, or raise finance from dollar-denominated bonds, are facing higher financing costs. In particular, smaller developers suffer more from currency exchange rate risks than bigger players, according to JP Morgan Chase.
But not everyone is complaining. For example, export-driven companies, such as makers of home appliances, textiles and electrical goods, are enjoying glad tidings from a pick-up in orders. Overseas consumers, especially those in the US, can buy Chinese goods by spending less in their local currencies.
Export-driven companies' profitability will rise and dollar-denominated income will return better yields. In segments like kitchenware and appliances, the biggest five players' net income rose 23 percent year-on-year in the first half of this year. These are now among the fast-growing segments this year, the association's report said.
Wang Chunying, a spokeswoman for the State Administration of Foreign Exchange, said on July 14 that as and when the market sentiment turns stable and rational again, expectations of further yuan weakness would ease.
Wang said the pressure from cross-border capital outflows has already eased in the first half of this year.