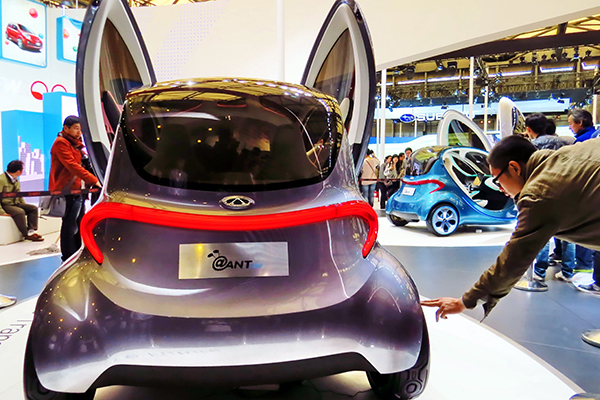 Chery @Ant 2.0 new-energy concept car on show at the Shanghai auto show in April, 2013. [Photo/China Daily]
Chinese new-energy vehicle makers are seeking more funds to support their expensive operations, as the small volume of sales generates no economy of scale, despite subsidies from both central and local governments.
BYD Co Ltd raised 14 billion yuan ($2.2 billion) with a plan to invest 6 billion yuan in its wholly owned lithium battery company to increase production, and 5 billion yuan in its wholly owned automobile business for research and development into new-energy vehicles, and 4 billion yuan to pay bank debts and add cash flow.
Warren Buffett's Berkshire Hathaway Inc-backed public company made a private placement of 252 million new shares at 57.4 yuan each, and Shanghai Samsung Semiconductor Co bought a 52 million stake at 3 billion yuan, together with five other investors, according to the company's announcement to the Shenzhen Stock Exchange on Friday.
Chery New Energy Automotive Technology Co Ltd, the NEV arm of Chery Automobiles, experienced a bumpy journey in its fund raising when a potential buyer ceased its assets restructuring plan.
The Shenzhen-listed Wuhu Conch Profiles and Science Co announced on Wednesday that it had dropped the 30 percent share purchase plan because Chery New Energy is not yet a government certified independent NEV maker.
"The buyout deal, if carried through, might have resulted in no NEV production permit," said Jia Xinguang, a Beijing-based senior analyst with China Association of Automobile Manufacturers.
"Chery New Energy itself has not received a NEV-making license. Wuhu Conch, as a construction material maker, does not meet the country's NEV manufacturer registration criteria, including car manufacturing systems and NEV-manufacturing experience, and research and development facilities" he said.
Jia noted that Chinese NEV makers are short of cash, and the players may be exposed to capital risks as the industry demands huge constant investments, but the NEV model produces no economy of scale.
Le Holdings Co's co-founder and head, Jia Yueting, pledged 78 percent of his shares, 290 million shares, in the listed Beijing Leshi Internet Information and Technology Corp last year mainly for funding the intelligent super electric car project, LeSee.
"The NEV market did not substantially start its engine," Jia Xinguang said. "The sales volume was not big enough to digest the R&D investment, so the price and cost failed to meet ends.
"Superficially, the market share rose, but it was the result of bargain competitions."
Need to fine-tune subsidy system
Industrial data showed that about 170,000 NEVs were sold in the first half of this year, a surge of 127 percent from the same period last year. China Association of Automobile Manufacturers forecast the whole year would see a market more than twice as large as last year's at about 700,000 units.
The NEV market is not driven by government policy, as current sales are largely powered by free car plate registration without lottery, according to Jia Xinguang. He predicted a sharp drop next year when subsidies further decline and car plate numbers decrease.
Beijing, Shanghai and Shenzhen are restricting the purchase and use of fuel-powered cars, and granting a separate car plate lottery pool for new-energy car plates, free of charge. Shanghai and Shenzhen hold auctions for petrol car plates, and the winners usually spend tens of thousands of yuan on a plate.
China's central government expects the new energy market will expand to 3 million annual sales by 2025, but only buyers of fully electric, fuel-cell and plug-in hybrid cars qualify for subsidies.
"The subsidies could be given to battery R&D to stimulate Chinese battery makers to make technical breakthroughs, instead of giving them to car purchases and production, Jia Xinguang said.
"Or the country may support two or three of the top NEV makers, which already have world-class potential, to nurture their advantages in competing with international giants."