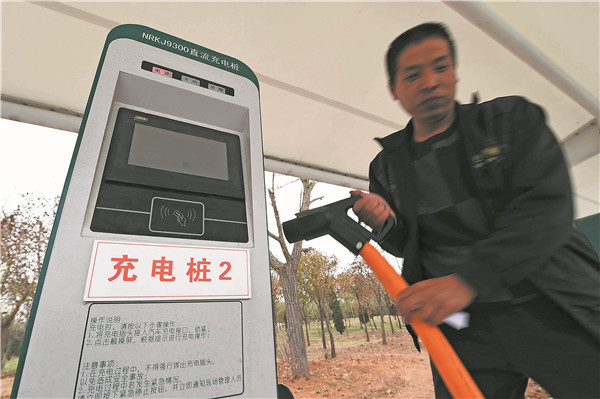 A car owner charges his new energy car at a newly opened charging post in Weifang, Shandong province, in April.WANG JILIN/CHINA DAILY
Favorable policies remain the main driving force of new-energy car sales in China, and whether market demand will take over depends on technical breakthroughs and infrastructure, according to industry insiders.
China has become the world's largest new-vehicle market. In 2015, 331,092 electric cars and plug-in hybrids were sold, 3.4 times the number in the previous year, but it has been shown that people buy them for the extra benefits rather than environmental reasons.
A recent poll by the Auto Business Review magazine of more than 700 new-energy car owners in China shows that some 80 percent made the purchase because license plates for such cars are easier to obtain or those cars are exempt from occasional rules that limit gas-powered cars from roads one day a week.
Cheng Jinglei, chief engineer of SAIC Motor, said nearly three-quarters of China's new-energy cars were sold in the cities where people pay or go through lotteries to get license plates and where traffic-limiting rules are implemented.
The central government, as well as some local authorities, has made it clear that ownership and use of new-energy cars cannot be restricted, to promote their popularity in the country.
Such policies are part of the government's effort to realize the goal of having 5 million such cars on the road by 2020.
In addition, the authorities have been offering financial incentives since 2010, with the subsidy for each electric car sold reaching up to 100,000 yuan ($15,280) this year, but the move is generating both positive and negative effects.
Earlier this year, Chinese newspapers reported that some carmakers cheated the government of the subsidies due to loopholes in the supervisory system.
Statistics show that 174,000 new-energy passenger cars were sold in the first 10 months of 2015 but only 108,000 license plates were issued during the period.
The difference of some 70,000 units was probably the result of carmakers' deceptive attempts to win subsidies, said Xu Changming, information development director at the State Information Center.
The government has been cutting subsidies each year and plans to stop them altogether by 2020. However, it will continue to offer non-financial stimuli, said Wu Zhixin, vice-director of the China Automotive Technology and Research Center, at an electric car forum in Changzhou, Jiangsu province, on May 19.
Special privileges
Wu said the authorities may offer new-energy cars privileges in road use and parking and, among other incentives, will provide charging facilities that meet the demand of 5 million such vehicles by 2020.
Experts say such moves will be critical. The Auto Business Review's poll shows that 56 percent of respondents say they get their cars charged at public charging posts.
The magazine said a survey by the Beijing Bureau of Statistics late last year showed that inconvenient charging was the primary reason potential buyers would not consider purchasing an electric car.
"The small number of charging posts is not because no one will invest," Jia Xuefeng, president of Shenzhen Ueee Technology Co, told the Economic Information Daily newspaper. "But there are many problems in operation."
He said charging post operators like his company are welcome in many cities but it is the companies that have to negotiate with property managers and pay them to install charging posts in communities, which has raised their costs and made it difficult to ensure a profit.
Concern about the quality of new-energy vehicles is another factor that makes potential customers flinch, the Auto Business Review poll shows.
It said 64 percent of problems people experience are related to batteries and 18 percent to electric motors.
Other major concerns are mileage capabilities, the life expectancy of batteries and whether they are safe in an accident. Those are areas in which new-energy carmakers should try to make breakthroughs, the report accompanying the survey results said.
After-service is proving to be another hurdle. Jia told the Economic Information Daily that many 4S stores do not have the ability to maintain and repair electric cars as mechanics are required to become electricians first and battery replacement requires purchasing special apparatuses.
"As 4S stores are generally not as profitable now as before, many see the business as a hot potato," Jia said.