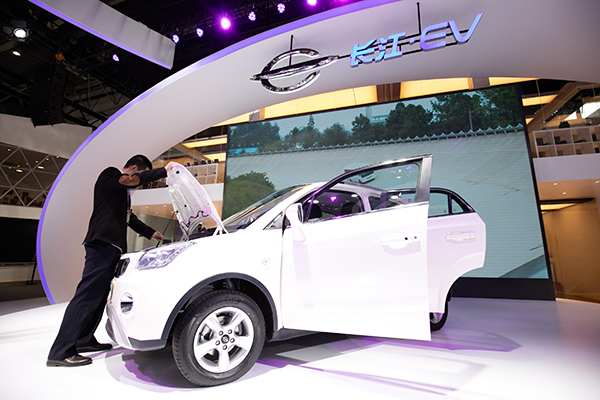 A visitor checks a new-energy car at the Beijing auto show in May. [Photo/China Daily]
Experts are warning of overcapacity in China's new-energy vehicle sector as NEV sales continue to keep rapid pace in the country.
The NEV segment, including purely electric cars, plugin hybrids and fuel cell cars, is the fastest-growing sector in the Chinese auto market.
Statistics from the China Association of Automobile Manufacturers show that 170,000 NEVs were sold in the first half of the year, a 127 percent surge from the same period last year.
The organization forecast that government financial stimuli would further boost growth in the sector in the second half of the year, predicting that total sales for the year would reach 700,000 units, more than doubling last year's figure.
Despite the surging growth, industry insiders are urging automakers and local governments to exercise caution due to emerging signs of overcapacity.
"Due to rapid expansion in the new-energy sector, we have seen the problem of blind investment, which must be addressed in order to prevent risks," said Wu Wei, an official at the National Development and Reform Commission, as he released the commission's report at CAAM's press conference on July 11.
The report said that although some regional automakers are technologically backward, they continue with ambitious programs to build NEV or battery plants, resulting in a market flooded with inferior quality products.
There are already more than 200 companies in the country's NEV sector, which covers passenger cars, buses and special utility vehicles, according to the report.
Wang Cheng, a senior expert at the China Automotive Technology & Research Center, said more than 30 car-making projects were under construction nationwide in 2015, with a combined capacity of 3 million units per year, 1 million more than China's planned capacity for the end of 2020.
Dong Yang, executive vice-president of CAAM, called on automakers to prioritize their NEV strategies and adjust them to meet market demand, if necessary.
"If in the past some automakers saw their (NEV) strategies as merely responses to government calls to develop the sector, they should now see them as their core competitive edge; if other automakers implemented such strategies to get government subsidies, they should now focus on ways to compete effectively in the market once subsidies are stopped," Dong wrote in his blog.
Subsiding subsidies
China promulgated plans in 2009 to stimulate the sector and set a goal in 2012 to have 5 million NEVs on its roads by the end of 2020.
To meet this target, both central and regional governments started offering subsides in 2010 to makers of new-energy cars and buyers, but there are framework plans to stop the subsidies in 2020.
"It is almost certain that China will have a million unit-level (electric car) market around 2020...and by then electric car technologies will become a vital part of major automakers' competitive edge," wrote Dong.
Vice-Premier Ma Kai said on July 6 that the central government will severely punish automakers who illegally claim subsidies, according to Caixin magazine.
The State Council has concluded an investigation-based report into illegal subsidy claims following media coverage earlier this year that some automakers obtained subsidies by producing substandard cars and selling them to their subsidiaries.
Ma said any automakers found guilty of illegally claiming subsidies would, depending on the exact circumstances, be forced to pay back the amount claimed, fined, and even have their car-making qualifications rescinded. To date, no company names have been released.
The State Council's report shows that the central government gave 28.4 billion yuan ($4.25 billion) in subsidies, with regional governments offering more than 20 billion yuan to the sector from 2013 to 2015.