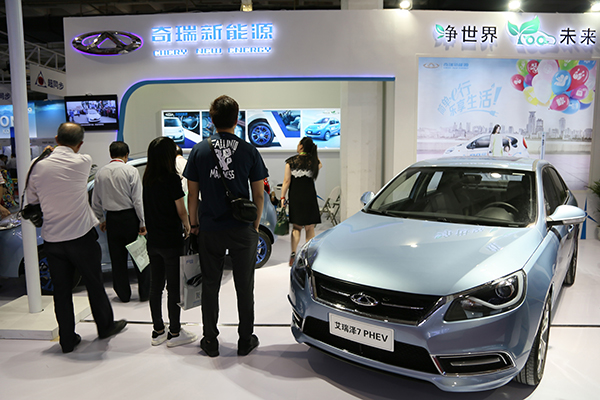 Chery new energy vehicles attract attention at the Beijing International High-tech Expo in May. [Photo/China Daily]
Manufacturers of NEV batteries jockey for position ahead of expected changes
Chinese traction battery manufacturers are preparing for a shakeup of the sector following the release of draft proposals to industry insiders that are reported to include amendments to national standards for the production of traction batteries, which are used to power new energy vehicles.
There are suggestions that the proposals, which will update the existing national standard introduced in 2015, could involve ending subsidies to companies that fail to meet the new standard.
A number of players in the industry are already making bold moves ahead of the changes in anticipation of the huge market potential they could offer.
Last week, two companies listed on the Shenzhen Stock Exchange announced their respective plans for the traction battery sector.
On May 23, Wuhu Conch Profiles and Science Co announced plans to take control of Chery New Energy Automotive Technology Co Ltd, the NEV arm of Cherry Automobiles. The plans involve the issuing of new shares to raise funds for a buyout deal. Conch Profiles will need to acquire at least 30 percent to match the share held by the current controlling stakeholders-Chery Automobile, which holds 30 percent, and Wuhu Construction Investment Company, which also holds 30 percent.
On Wednesday, Shenzhen Clou Electronics Co announced an investment of $2.45 million (15 million yuan) for a 70 percent share in a cell battery manufacturing joint venture with LG Chemical, which is staking $1.05 million.
South Korean company LG also plans to expand its production capacity for traction batteries following the opening last year of its new plant in Jiangsu province.
According to industry experts, the moves are designed to preempt expected new regulations and standards for traction battery production, which are expected to be introduced in July 2017.
The Ministry of Industry and Information Technology is currently amending regulations covering NEVs and related products, according to local media reports.
It is believed that the draft proposals of the new regulation will require companies to meet a new national standard for rechargable traction batteries. It is expected that manufacturers that fail to meet the new standard will no longer receive subsidies.
Commenting on current testing standards for traction batteries, Jia Xinguang, senior analyst with the China Automobile Dealers Association, said, "A traction battery needs to undergo running tests which add up to tens of thousands of kilometers."
Local media reported that Shenzhen-based BAK Battery Co Ltd has been upgrading its manufacturing process since the beginning of 2016 in anticipation of the new standard.
Currently, Li-ion batteries manufactured by Samsung, Panasonic, and LG are the most popular in the premium NEV sector due to their reliability and perceived quality.
Statistics showed that the Liion battery making industry brought in 203 billion yuan in revenue in 2015, jumping 20 percent year-on-year, while realized profits hit 13 billion yuan, surging 60 percent.
The domestic battery manufacturing sector is currently consolidating for the future development of China's bullish NEV market.
Both Chery New Energy, and China Anhui Jianghuai Automobile Co, another NEV manufacturer, are located in Anhui province, making the region a potential new NEV powerhouse.
"Chery and JAC are both controlled by local government investment bodies, but they are doing a similar thing-investing heavily in NEV research and development, especially with regard to battery making," said Jia.
"The government is hoping to consolidate their NEV research and production facilities," he added.
Through its bold repositioning strategy, Conch Profiles, a traditional manufacturer in Anhui province, could firmly establish itslef in the new energy sector, according to Jia.