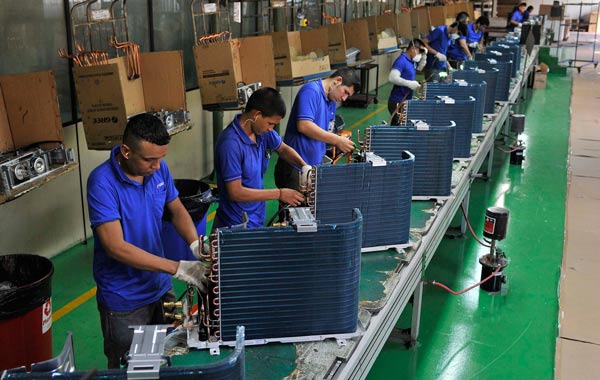 Employees work at a production line in a factory of the Chinese brand Gree, in Manaus June 24, 2014. Picture taken June 24, 2014. [Photo/Agencies] 
Chinese appliance company Gree Electric Appliances Inc recently accepted a $15.45-million-civil-penalty imposed by the US Consumer Product Safety Commission (CPSC).
According to the CPSC's announcement on March 25, as required by US federal law, Gree and two of its subsidiary firms, Hong Kong Gree Electric Appliances Sales Co Ltd and Gree USA Sales Ltd, have failed to "report a defect and unreasonable risk of serious injury to CPSC immediately (within 24 hours) with dehumidifiers sold under 13 different brand names, including Frigidaire, GE, Gree, Kenmore and Soleus Air".
"Gree's dehumidifiers had a defect that caused the machines to overheat and catch fire. These incidents began in July 2012 and caused nearly $4.5 million in property damage," the announcement said.
According to the CPSC, despite Gree receiving multiple reports of incidents, and despite making design changes to fix the problem, Gree failed to report the defect to CPSC immediately.
"The delay for reporting to the CPSC about the dehumidifiers issue is because we do not have a deep understanding of American laws, rather than breaking them on purpose," Gree said in a written statement to chinadaily.com.cn.
According to Gree, more than 98 percent of the forfeit is due to the delay in reporting to the CPSC.
The company also denied two accusations listed by the CPSC, which said that Gree made misrepresentations to its staff during its investigation and sold dehumidifiers bearing the UL safety certification mark knowing that the dehumidifiers did not meet UL flammability standards.
"Under the business premises of protecting consumers' interests, Gree has voluntarily recalled the dehumidifiers associated with the problem," Gree said. "We have to face a variety of difficulties in different areas, such as market, trade and technology, and it is a must-experience stage for Chinese manufacturers who are keen on expanding to the overseas market."
Gree pointed out that it will calmly meet the challenges and adopt a positive approach to the problems.
The dehumidifiers were eventually recalled in September 2013. The recall was expanded in January 2014, and re-announced in May 2014. Gree manufactured, imported and sold more than 2.5 million units nationwide. The humidifiers were sold by AAFES, HH Gregg, Home Depot, Kmart, Lowe's, Menards, Mills Fleet Farm, Sam's Club, Sears, Walmart and other stores nationwide and in Canada, and online at Amazon.com and Ebay.com, from January 2005 through August 2013 for $110 to $400.
According to CPSC, in addition to paying the civil penalty, Gree has agreed to implement a program to ensure compliance with the Consumer Product Safety Act and a related system of internal controls and procedures.
The CPSC is charged with protecting the public from unreasonable risks of injury or death associated with the use of thousands of types of consumer products under the agency's jurisdiction.