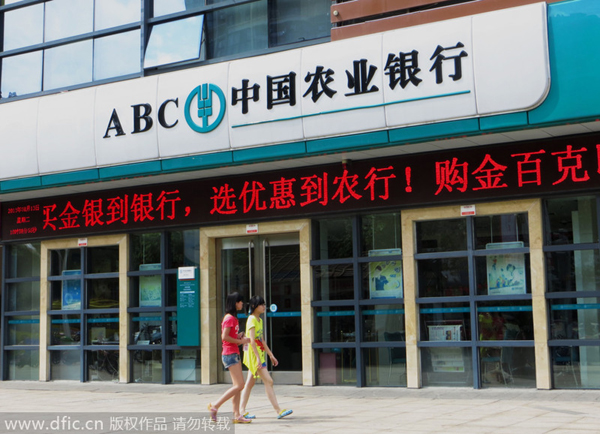 Pedestrians walk past a branch of Agricultural Bank of China in Yichang city, Central China's Hubei province, August 13, 2013. [Photo/IC]
BEIJING - An investment firm linked to China's foreign exchange regulator has become a major shareholder of Agricultural Bank of China (ABC), one of the country's big-four lenders.
Wutongshu Investment Platform Co Ltd, a wholly-owned subsidiary of the State Administration of Foreign Exchange, has taken more than 980 million shares, or about 0.3 percent of ABC's total shares, as of end of 2015, the bank said in its annual financial statement.
With it, Wutongshu has become the bank's ninth-largest shareholder.
Wutongshu bought into the mainland's A-shares of several Chinese banks during the fourth quarter of 2015. It also took 0.4 percent and 0.36 percent of another two of the big four lenders, Industrial and Commercial Bank of China and Bank of China, respectively.
The amount of A-shares held by Wutongshu and its two wholly-owned subsidiaries known as Fengshan Investment and Kunteng Investment totals more than 27 billion yuan ($4.2 billion), according to Shanghai Securities News.
Wutongshu's investment in the A-share market is designed to improve its foreign exchange management and help development of the domestic capital market, according to officials.
China's foreign exchange reserves totaled 3.2 trillion yuan at the end of February, the lowest since December 2011, according to the People's Bank of China, the central bank.
Agricultural Bank of China closed flat on Friday in the Shanghai stock market, at 3.2 yuan per share.